DofE Heroes: Our own helping hands in the community
At the DofE, we value and encourage all positive engagement in the community – it's one of the driving forces behind the volunteering section.  Volunteering in the community is beneficial for those in need, the local environment and good mental health. At the DofE we don't just like to preach its positive qualities, we also like to practice it. Today for Volunteers Week, we celebrate our own helping hand in the community, Kevin Fawcett, our Operations Officer for the west of Scotland.
Kevin has been actively involved in community volunteering since the age of 14, being very passionate about his involvement with over 23 years of experience with the DofE he now supports new volunteer Leaders.
With COVID-19, Kevin's usual volunteering opportunities became limited, but that wasn't going to stop him! As a keen outdoor enthusiast along with his fluffy little dog, he spotted opportunities where he could give back to the community during Lockdown. Kevin said, "With COVID-19 I now do litter picking when out on my dog walks with our wee foster dog Teddy, (he has been with us a while as we are not permitted travel for re-homing during lockdown)"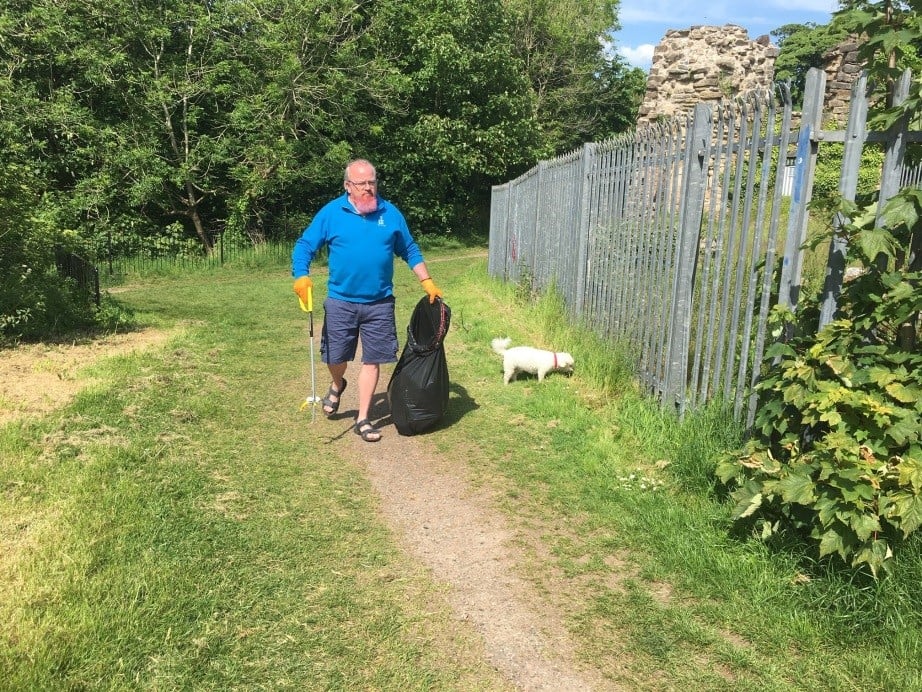 Kevin shares why he does his community volunteering, he says. "I suppose it's similar to the expedition principles, so I wanted my walks to have a purpose, so seeing the volume of litter on my route, I wanted to help improve the look of the environment  for other locals. I contacted the Council and asked for litter picking tools and they duly dropped of the kit and away I was. It's heartening to see the improvement, on my first week on my 40 min route I filled 5 sacks, now I do it on a Saturday morning and can fill 1 or 2 sacks on my round. People stop to chat, so that's great and they appreciate the effort as it makes a difference to their walks too."
Why should you volunteer in your local community? His reasoning, Kevin said, "It's great to have a simple weekly 'purpose', knowing that it makes a difference to most folk, it can be a little disheartening seeing the litter each week, but those wee shouts of 'thanks', 'well done', does give you a lift so that outweighs any negativity – it also means that I have a more pleasant walk for the rest of the week with Teddy too!"
If you have a story or want to share your volunteering activity, please get in touch @DofEScotland using #DofEWithADifferece #VolunteerWeek