Gold DofE Award holders to celebrate The Duke of Edinburgh's life-changing legacy at Service of Thanksgiving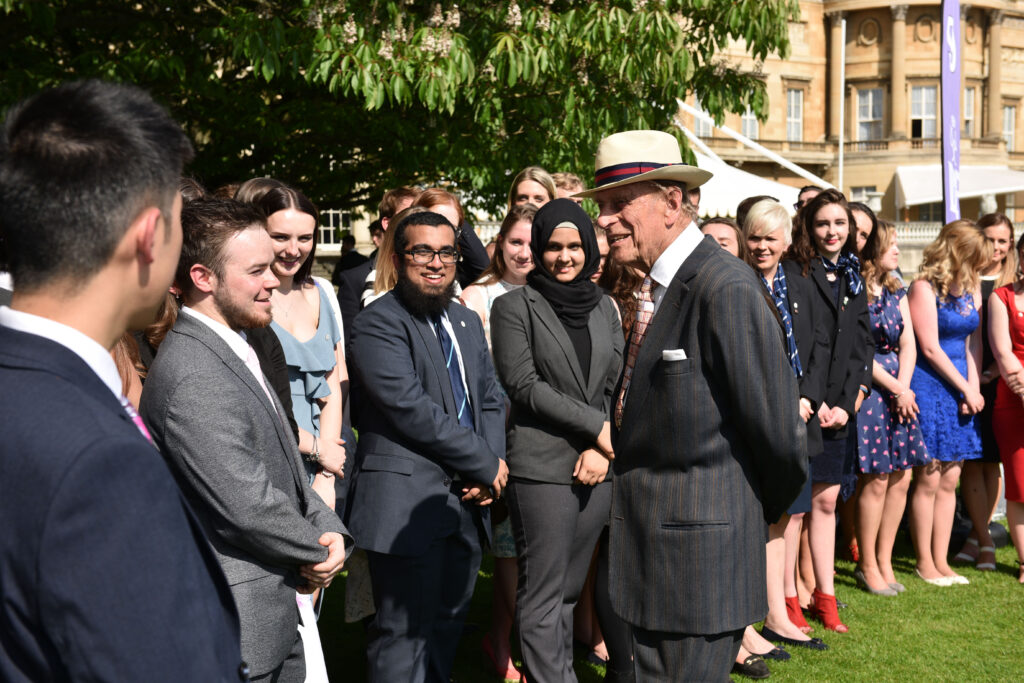 A Gold DofE Award holder will tell guests at today's Service of Thanksgiving that The Duke of Edinburgh's legacy, The Duke of Edinburgh's Award, was the opportunity that empowered her to fulfil her potential – and will do the same for generations to come.
Doyin Sonibare, 28, from London, will give a Tribute during the Service of Thanksgiving at Westminster Abbey, telling attendees that the skills she gained from her DofE helped her secure her first job at 18. Doyin – who is now an account executive and studying for a PhD in sickle cell research and health inequalities – will reflect on the difference doing her DofE has made to her life since. Nine recent Gold Award holders will also line the Abbey steps as guests arrive.
The Duke's ambition when he founded the DofE in 1956 was to enrich young people's lives. Since then, more than 6.7 million young people in the UK have done their DofE – discovering new passions and vital skills, building their confidence, resilience and self-belief, making a positive difference in their communities, and having life-changing experiences.
And a year on from The Duke's death – as young people navigate the challenges created by the pandemic – the DofE is needed more than ever. The charity is working to continue The Duke's legacy by reaching one million young people by 2026, with a particular focus on supporting those who currently face barriers to participation.
Doyin Sonibare, Gold DofE Award holder, said: "It's a huge honour to speak at today's service and reflect on the amazing impact The Duke's legacy has had on me and millions of others – and will go on having for future generations.
"When I look back at the last decade, I've achieved so much more than I thought I could – and it's down to my DofE and the opportunity it gave me. At times like these, with so much uncertainty and upheaval, it's so important all young people get opportunities like this, so they have every chance to fulfil their potential too."
Ruth Marvel, CEO of The Duke of Edinburgh's Award, said: "Today is an opportunity to celebrate The Duke's incredible legacy and his vision in creating the DofE charity which has helped generations of young people develop the skills, resilience and self-belief they need to thrive, whatever life throws at them.
"The Duke founded the DofE because he knew that, with the right opportunities, young people's potential is limitless. Six decades on, the hundreds of thousands of young people doing their DofE continue to prove him right every day – discovering new talents and making a positive difference in communities all over the UK."
A living legacy
After The Duke of Edinburgh's death last April, the DofE launched the Living Legacy Fund in his memory to support its aim to reach a million young people by 2026. That work is well under way, with a focus on reaching those who face barriers to taking part, such as young people with special needs, who live in deprived areas or who are in prison.
In the last 12 months the DofE has:
developed a Youth Ambassador programme to put young people at the heart of its work.
started ambitious projects to reach the most marginalised young people, by supporting more youth organisations in the UK's most deprived areas and up to 291 schools in the most deprived parts of England to run the DofE
expanded the DofE in prisons and young offender institutions
begun a national project to support more young people with additional needs to start their DofE.
The pandemic has had an immeasurable impact on young people's lives across the UK – affecting their job opportunities, mental health, education and hobbies. Marginalised young people have been hardest hit.
The DofE can empower young people to discover new passions, equip them with vital life skills and build their confidence and self-belief, so they're ready to take on life's challenges and fulfil their potential. It is open to all young people, whatever their background, interest or abilities – with every DofE programme built by, and unique to, the young person themself.