Record-breaking 12,000 Gold Award holders to be welcomed to the Buckingham Palace Garden for first Duke of Edinburgh's Award celebrations since the pandemic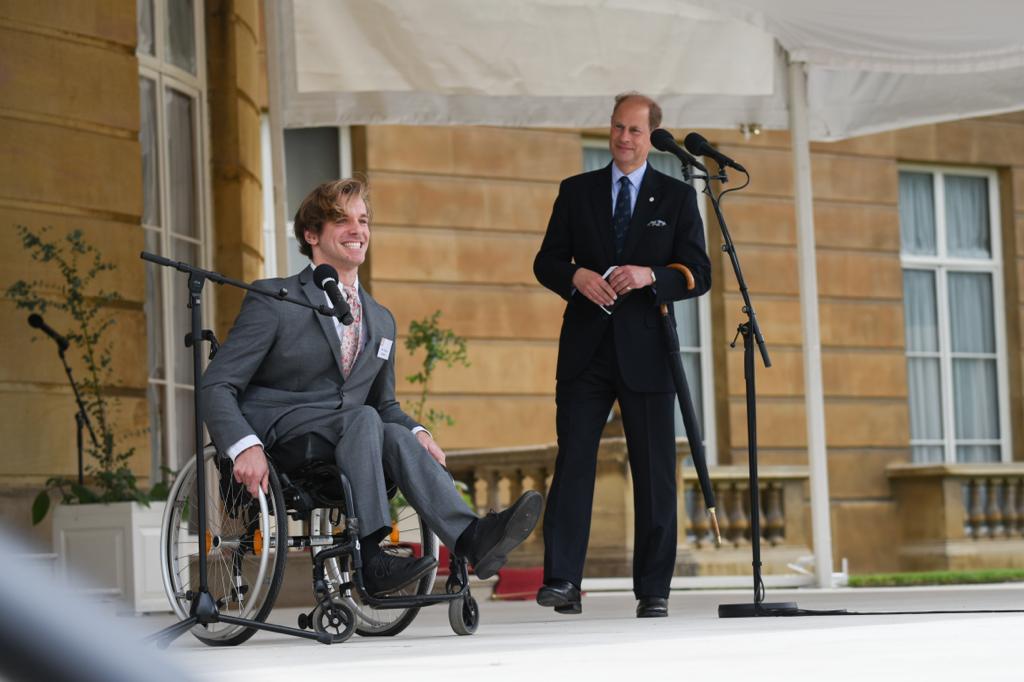 Around 3,000 Gold Duke of Edinburgh's Award holders were special guests in the Buckingham Palace garden this morning for the first of four very special festival-style celebrations – the first Award events since the pandemic, and the largest ever held. HRH The Earl of Wessex hosted the event in his role as Trustee for the DofE.
The celebrations, taking place today and on Friday 20 May, will recognise around 12,000 young people who did their demanding Gold DofE programmes both before and during the COVID pandemic – showing extraordinary creativity, resilience and determination to achieve their Awards while navigating unprecedented challenges and restrictions.
This week's events will see Buckingham Palace Garden transformed into a festival-style celebration for young people and their loved ones, with chances to hear from famous DofE Award holders and international adventurers and explorers, pick up career advice from business leaders and entrepreneurs, and join in garden games and activities.
This morning's celebration saw DofE Trustee HRH The Earl of Wessex and Strictly Come Dancing's Johannes Radebe give speeches to welcome the assembled guests to the celebration – alongside Bronze, Silver and Gold DofE Award holder Felix Daglish, 20, who told attendees how his DofE had transformed his approach to life.
TV explorer Ben Fogle, DofE alumna and actor Nina Wadia, and The Apprentice's Tim Campbell were also on hand with inspirational talks on careers and life skills.
As part of the celebrations, The Earl met with many of the Award holders and their loved ones, hearing about the positive impact their DofE had had on them.
"It's difficult to sum up its impact"
The pandemic hit young people hard, affecting their education, social lives, jobs and mental health. At a time when many lost structure and routine, the DofE provided a much-needed motivation, purpose and focus. Supported by their Leaders, more than 330,000 young people worked towards their DofE Awards during the first year of the pandemic, and volunteered more than 1.8 million hours in their communities, often helping the COVID relief effort.
Award holder Felix Daglish 20, from Wandsworth, gave a speech at this morning's celebration. He said: "DofE has been a part of my life for so long sometimes it's difficult to sum up its impact into words. Completing the Award was huge for me. I remember it being my first taste of independence and as someone who heavily relied on others growing up – the feeling of freedom was intoxicating.
"It was then that I really realised just what I was allowing myself to miss out on. DofE helped me grow from a child into an adult. It's how you respond to difficult situations that's important and allows you to grow."
Ruth Marvel, DofE CEO, said: "Achieving a Gold DofE Award is a remarkable achievement at any time – but over the last two years young people have overcome extraordinary challenges to achieve theirs. I'm delighted we're finally able to give them the celebration they deserve and recognise the amazing passion, resilience, and creativity they've shown.
"Young people were some of the hardest hit by the pandemic, losing out on education and social development, experiencing unprecedented levels of mental ill-health and now a cost of-living crisis – but, as today's attendees show, they have the potential to achieve amazing things given the chance. We owe it to all young people to give them access to opportunities like the DofE, which can help them build their confidence, resilience and skills so they're ready for anything."
A Gold DofE programme is a demanding, non-competitive personal challenge, open to all young people, which takes a minimum of 12 months to complete. Young people build their own programmes with activities in five sections – Physical, Skills, Volunteering, a five-day Residential and a four-day expedition.