'I would (walk) run 500 miles'…Connor starts his Silver in style
Inspired by the efforts of 100-year-old Captain Tom Moore, DofE participant Connor kick-started his Silver programme by setting himself the ambitious challenge of running 500 miles.
Normally, Connor enjoys swimming for Wisbech Swim Club, competing in triathlons for PacTrac Peterborough and playing rugby for West Norfolk Rugby Club, and any of these would have been suitable choices for the Physical section of his Silver programme.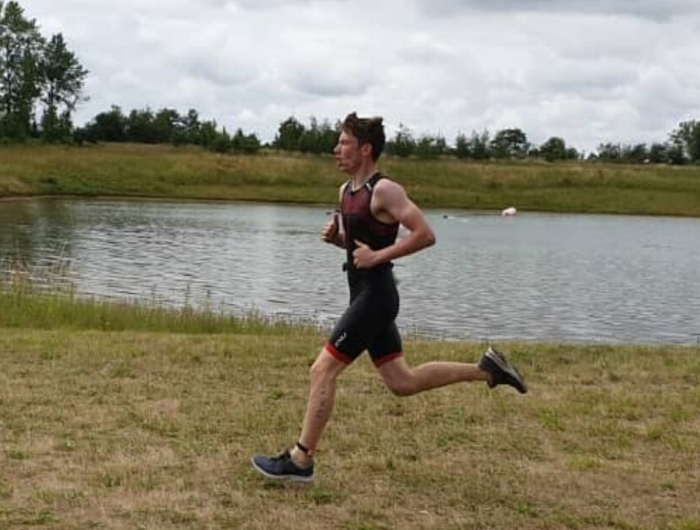 However, due to the coronavirus outbreak, like most DofE participants, Connor is now isolating at home, and was keen to find a way to not only keep going with his DofE but also maintain his fitness.
Moved by both Captain Tom Moore, who set out to walk 100 lengths of his garden before his 100th birthday, and Margaret Payne, who is climbing the height of Mount Suilven on her stairs, Connor also wanted to use his running efforts to raise vital funds to support NHS Charities Together.
Fundraising is a great #DofEWithADifference Volunteering activity, and to tie in with his 500-mile run Physical section, Connor set himself the target to raise £500 for his Volunteering. Less than two weeks after setting up his fundraising page, Connor smashed his target, but is continuing his efforts to raise critical funds for the NHS.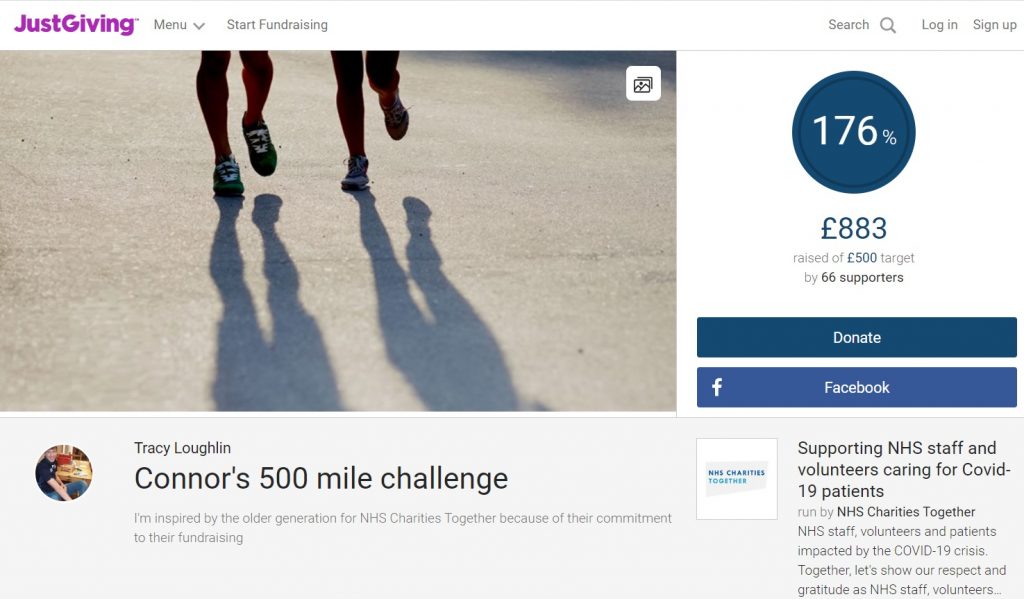 "I was out on one of my normal runs last week when a message came up on my phone about Captain Tom raising £20m. I thought if he can do it, surely I could do something similar.
I got home and spoke to my mum about setting up a JustGiving page. Initially I was going to run a mile for every pound donated but then we thought we'd make it a bit more ambitious. Mum suggested 500 miles, which linked in to The Proclaimers' song about walking 500 miles."
Connor is tracking his runs using Strava and sharing his progress with supporters on his fundraising page. Despite recovering from a foot injury, his first 18 runs have already seen him cover 115 miles in his local community.
Connor is completing his DofE at the Thomas Clarkson Academy in Wisbech, where his efforts have been supported by staff. Head of PE Mr Hooper said: "Connor has lots of moral fibre – he has decided to do this off his own back and what a fantastic cause it is. The whole PE department is very proud of him and support him in his efforts."
PE teacher Mr Chamberlain added: "Connor is one of our first students to be awarded the TCA Sport Stars accolade and this sort of challenge highlights his passion not only for sport, but to helping others. It would be great if the TCA community could get behind him and support his challenge which is for such a worthy cause in these current times."
As well as his running efforts, Connor has also started his Skills section from home, and is completing a British Sign Language online course.
For ideas on how you can keep doing your DofE at home like Connor, take a look at our activity list and Opportunity Finder.