Jemima's piano playing brings 'Happiness' to veteran
Bronze DofE participant Jemima had been volunteering in a local care home, Royal Star & Garter in Surbiton, on a weekly basis, playing the piano for residents.  
"I really wanted to use music in my volunteering, and my recent experience of visiting my Granddad in a care home gave me the idea of weekly concerts. Royal Star & Garter is a very local care home to me, and it has a lovely piano in the foyer, so it was the perfect location. Luckily for me the staff also thought it was a good idea and gave me the chance to perform, they were so welcoming and friendly."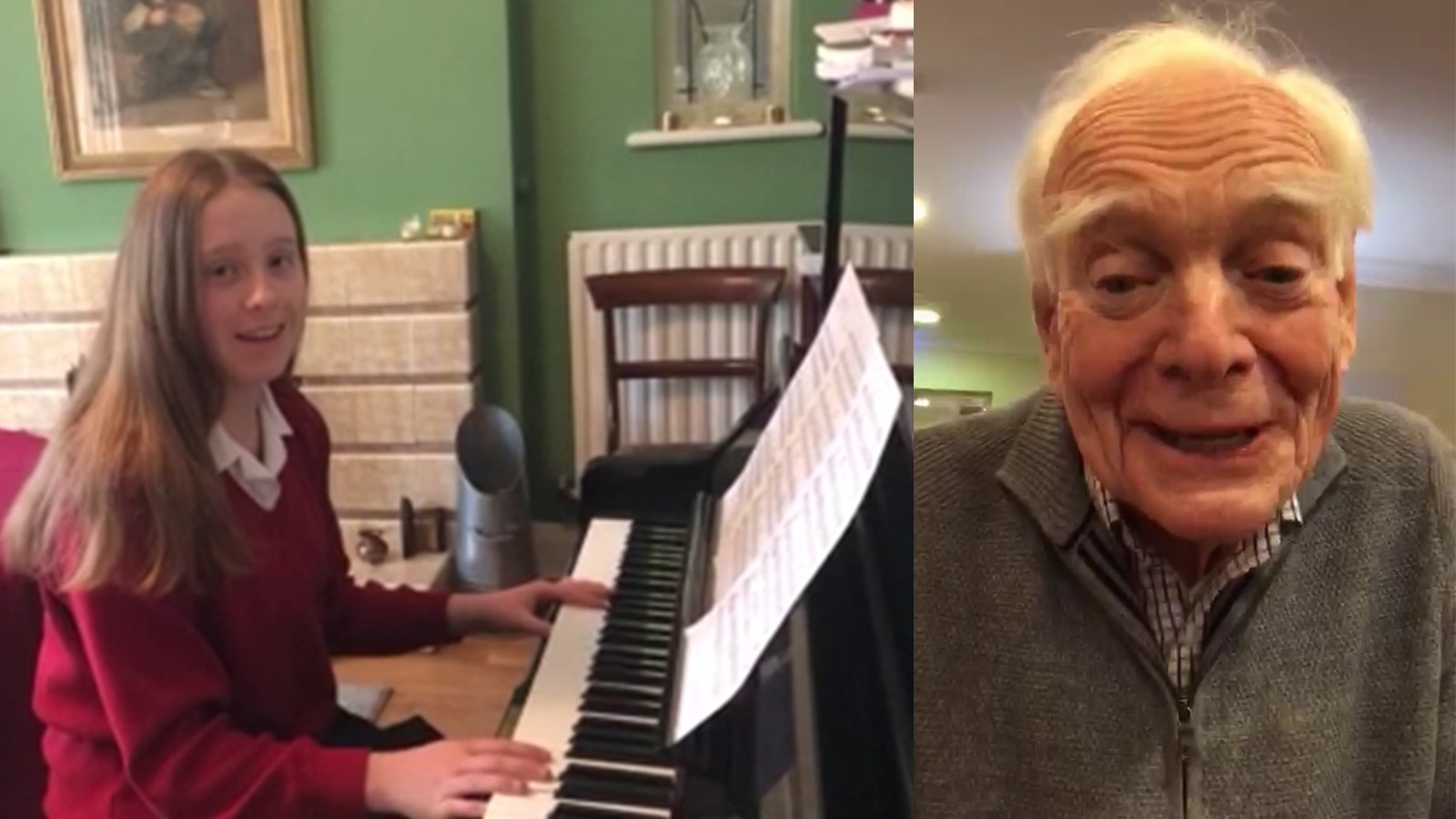 *Photo credited to © Royal Star & Garter
The restrictions in place for the protection of staff and residents due to COVID-19 mean that she is no longer able to visit in person, but Jemima is determined that this won't stop her from bringing joy to the residents.  
Jemima recorded a video of herself playing 'Happiness' by Ken Dodd, a resident's favourite song, to put a smile on his face and sent the video to the Home's Activities Manager Raquel Pena Aristizabal. 
Raquel said: "It was a joy seeing the video, and Bernard's reaction was so moving. Our residents cherish their visits from the younger generation. Jemima plays so beautifully and you can see how much it means to her when she sees residents enjoying her music. Visits like these mean the world to our veterans, and we will be using technology to continue these interactions at this difficult time." 
Jemima was thrilled to receive a video message in return from Bernard. "Watching the video of Bernard makes me smile every time. His happiness is infectious. I am so delighted he has enjoyed my playing; it makes all the practice and effort completely worthwhile." 
As well as recording videos of individual songs, Jemima has been providing regular online concerts for the residents and has found that the experience has helped develop some of her other skills. "Volunteering has helped me gain confidence in performing and speaking in front of an audience and has increased my musical repertoire to include pieces I would have never known existed by Elvis, Ken Dodd and Flanagan and Alen. But, more than anything, performing at Royal Star & Garter has shown me how immensely rewarding volunteering can be and how I would love to continue!" 
Jemima's Mum, Sarah, is also seeing benefits from Jemima's volunteering experience.  "The DofE volunteering has given Jemima so much more than we could ever have imagined. The joy of her music being appreciated, the fun of making new friends from a very different generation and the feeling of helping during difficult times has been a very rewarding experience and one that Jemima hopes to continue with in the future."