Gold Award holder Doyin Sonibare reflects on meeting Her Majesty The Queen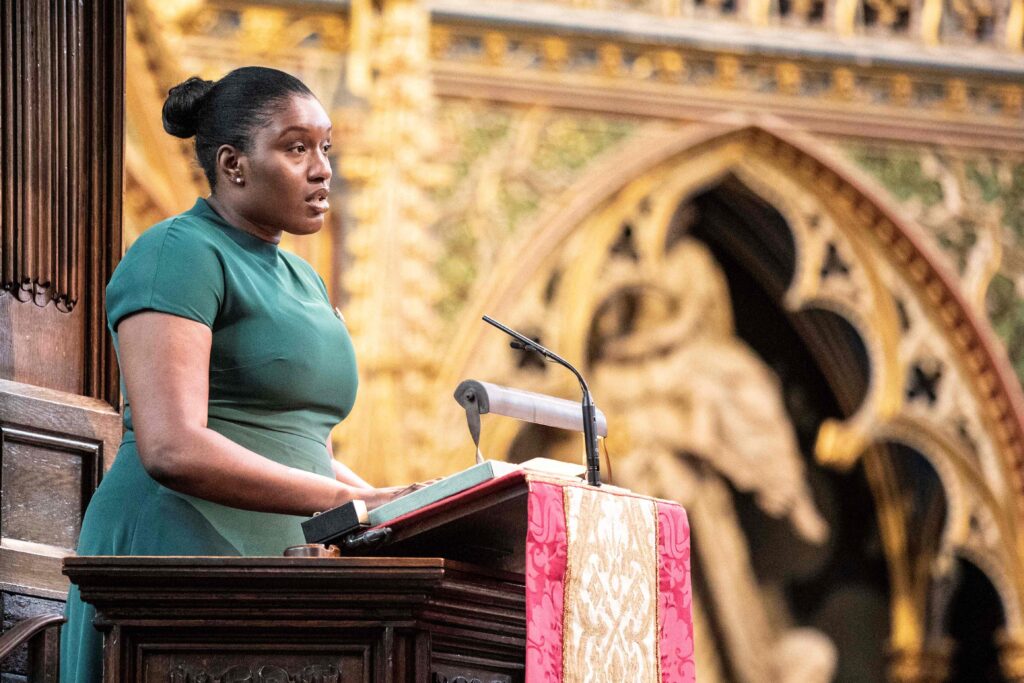 At the Service of Thanksgiving for the life of The Duke of Edinburgh in April 2022, DofE Gold Award holder Doyin Sonibare gave a speech on behalf of the DofE. After her speech, she was greeted by Her Majesty The Queen. She reflects on the experience below.
"I remember vividly being asked to deliver a speech on behalf of The Duke of Edinburgh's Award at the Service of Thanksgiving – I immediately said yes. I later reflected on the enormity of the occasion and felt honoured to share my story and The Duke of Edinburgh's legacy with the world, especially as I knew The Queen and senior members of the royal family would be in attendance.   
"I had briefly greeted Her Majesty from afar at the Diamond Anniversary DofE service a few years prior, but we didn't get the chance to speak.
"I didn't know that I was due to meet The Queen until the day before the Thanksgiving Service, so I didn't have time to overthink. But I was completely shocked by the possibility.   
"After I delivered my speech, I was introduced to The Queen. She shook my hand and thanked me for my speech – she was lovely, really kind. She asked when I finished my Duke of Edinburgh's Award – I responded that I completed it a very long time ago and she laughed. She also thanked me for honouring her husband, The Duke of Edinburgh, and told me that the DofE was 'his life's greatest work'.
"I found out after the occasion that I was the first member of the public to meet The Queen post Covid lockdown. It was a special moment for me – definitely one for the books!
"Making my mum proud was the highlight of the occasion. My family, friends and colleagues were so proud of me. I had not been able to tell many people about my speech, let alone meeting The Queen, so the first they knew of it was watching me on live TV! After the event, my phone did not stop ringing – I received so any congratulatory messages from family and friends from across the world.
"I'm so grateful that I was privileged enough to meet The Queen – it's something I hope to live to tell my children's children.
"As a beneficiary of the DofE, it's incredibly clear The Queen shared the same sentiments as her late husband with regards to supporting young people and being an advocate for the next generation. So, in this time of mourning, I'm reflective and grateful for all she did for young people across the UK."
Doyin Sonibare, who holds Bronze, Silver and Gold @DofE Awards, today gave a tribute to The Duke of Edinburgh, recognising the impact of the Award on young people across the globe.#ThankYouSirpic.twitter.com/ZK4N8VUtbi

— The Royal Family (@RoyalFamily) March 29, 2022
Read about Doyin's tribute at The Duke of Edinburgh's Service of Thanksgiving