Hannah Cockroft MBE shares her memories of Her Majesty The Queen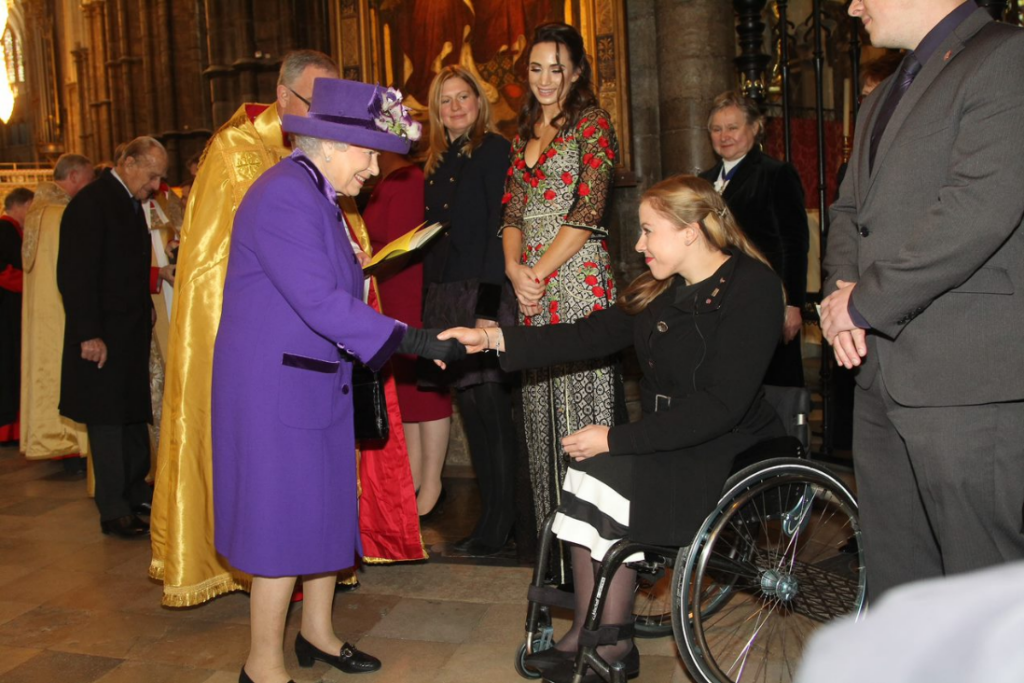 "I was lucky enough to be a part of The Duke of Edinburgh's Award Diamond Anniversary service in Westminster Abbey in 2016. I have spoken in front of many large crowds in my career, but this one was definitely the most daunting as I had the Queen and the Duke of Edinburgh sat just feet away as I gave my address. I was then honoured with the chance to meet Her Majesty after the service.
"When I spoke at the Diamond Anniversary, The Queen and Duke of Edinburgh heard in my speech how the Duke of Edinburgh's Award had impacted on me and my life, so they already knew my story and the Queen told me that my story was exactly why Prince Phillip had come up with the Award, so that was lovely to know.
"I remember how nervous I was before I spoke at the Diamond Anniversary, my hands were shaking so much that I could barely read what I had written, but everyone was so kind afterwards about my words. On other occasions of meeting the Queen, I remember post 2012 being in a line up with Nicola Adams, Helen Glover and Heather Stanning and Ellie Simmonds. The Queen moved down and spoke to each one of us, but she spent a longer amount of time with Nicola than anyone else. She got to me, asked me what sport I had won my medals in and then moved back to Nicola to ask her another question! She was clearly a boxing fan!
"I was lucky enough to meet the Queen on several previous occasions. As a Paralympian, I met the Queen twice at the post-Games receptions that Buckingham Palace held for us, one in 2012 and one in 2016. I also met her at a Buckingham Palace Garden Party in 2012 too.
"It is such a big deal to meet the Queen, so I was definitely nervous on all occasions! There is a lot of protocol to follow when you're in a line up, so I think I was more worried about getting it wrong than anything. But ultimately, when it came around to it, it really was like speaking to your Grandma, she was a lovely lady and nothing to be scared of at all!
"Each time meeting the Queen, the conversation naturally gravitated back to my sport- either a competition I had just finished or what I was working towards or training for next. You only get a minute or so when you meet her, so it's literally enough time for you to be introduced, her to ask you what sport you do and what you won and then it's time to move on, so not too much time for a conversation, but enough to say you've met the Queen!
"My Mum has a photo of me with the Queen framed in her house. She was always the one asking to be my plus one for events at the Palace as her Dad (my Grandad) was awarded an MBE by the Queen before I was born, so although she's 'used' to it, she still got very excited anytime the opportunity came up- as anyone would! Everyone just wants photo evidence or it didn't happen!
"I was awarded an MBE in 2013 and I will receive my OBE later this year. I think it's crazy that I've been awarded such honours, especially for just doing something that I love. But it really is exactly what it says on the tin, it is an absolute honour to be recognised for your work and to be appreciated. My OBE date is coming up in November so I need to get a dress!
"The day I received my MBE was amazing and humbling. To be lined up with servicemen and women especially, you do begin to question if you even deserve your honour. Most people had booked really fancy places to have food after the investiture, but I went to the Hard Rock Cafe with my family and they gave me my own Hard Rock MBE badge, so it was a really special day!
"My honours are in my trophy cabinet, and my scripture is framed on the wall at my Mum and Dad's house, for all to see."