DofE Youth Ambassadors make their voices heard at party conferences
Earlier this month, our Youth Ambassadors attended the Labour and Conservative party conferences where they spoke to MPs, charity leaders and members of the Cabinet about the issues that they care about. 
Labour Party conference:
Aimee, Jake and Laila attended the Labour conference in Liverpool where they met with key decision-makers and spoke about the benefits of DofE to Labour Party members.
Aimee also took part in our panel event, 'Breaking down barriers – reaching marginalised young people' and said:
"I was very nervous as I haven't been part of a panel before and still get scared speaking in assemblies at school, however I didn't want to let the opportunity pass me by.
"Everyone was so lovely which made me feel at ease and they were all very passionate about the topic. It was amazing to see how many people with influence cared about youth engagement programmes.
"I really enjoyed the experience and hope that politicians and society listen to young people when we talk about the importance of extracurricular activities in supporting our development as people."
Youth Ambassador Jake also spoke to members of the Labour Party:
"We also discussed the importance of youth voice and why it is critical that MPs and others in positions of influence listen to the young people that they represent in order to reach the heart of the most marginalised communities.
"Following the panel discussion, we agreed that it is essential that we use the ideas shared to formulate real solutions in our communities and it has definitely inspired me to take a more active part in my own community."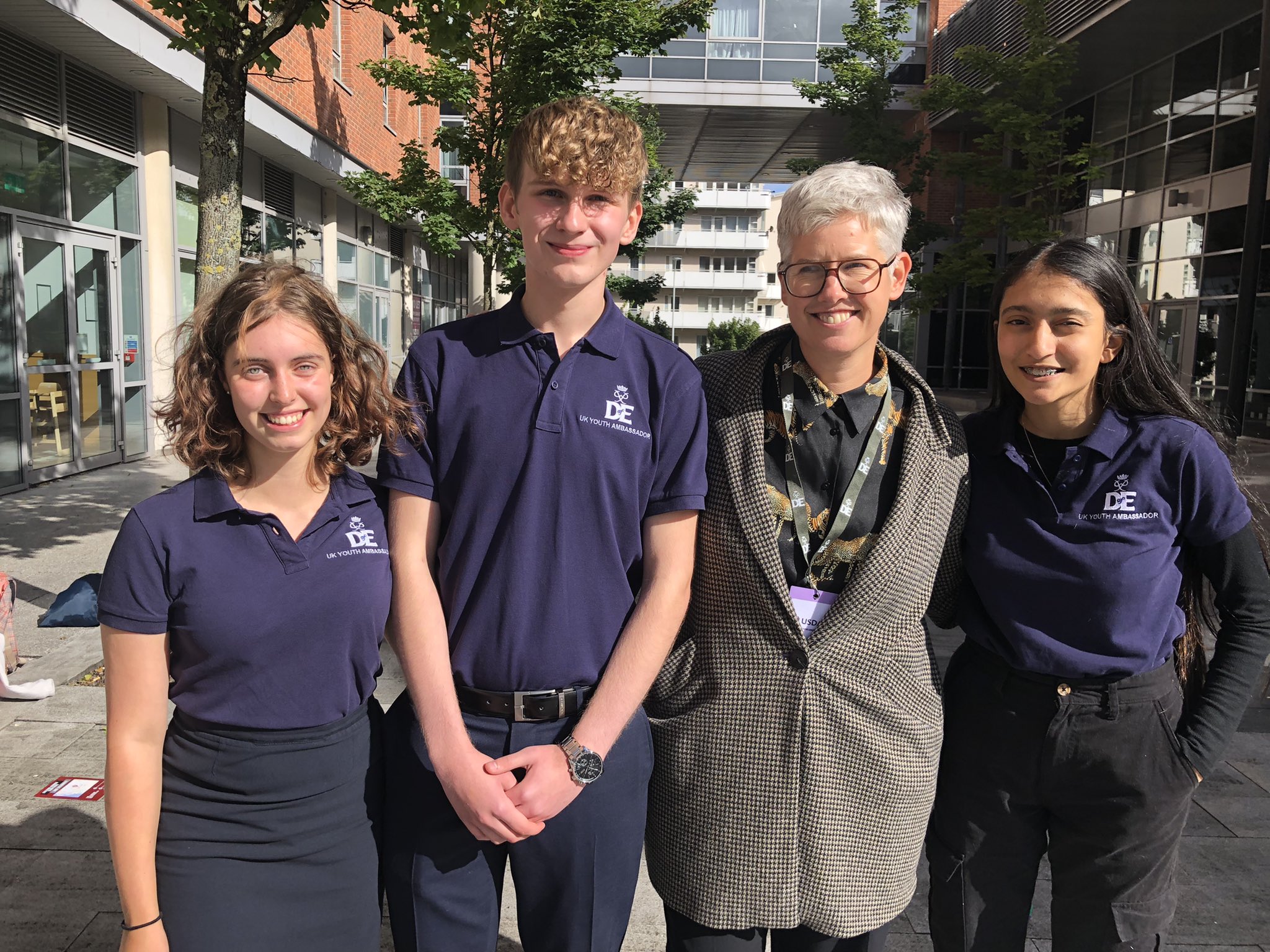 Conservative Party conference
At the Conservative Party conference in Birmingham, Youth Ambassador Evie joined DofE CEO Ruth Marvel at the event: 'Youth Without Limits: empowering young people through DofE'.
As well as speaking at the reception, Evie met with Conservative MPs, CEOs of other leading organisations and Secretary of State for Media, Culture and Sport, Michelle Donelan.
Speaking about the experience, Evie said:
"I recently went along to the Conservative Party conference and loved getting an insight into the ever-changing world of politics.
"I attended several speeches and heard from people who make decisions that affect our everyday lives such as from the Education Minister, Transport Secretary, Health Secretary and the Prime Minister herself, which I was lucky to nab a great seat for.
"After these speeches, the DofE team and I attended the DofE drinks reception. It was fascinating to be in a room full of people who all either completed their DofE, were planning on doing it, or were involved in social action and community schemes.
"It was such a warming community spirit, the night started with networking and then a speech by MP Ben Everitt who spoke about his own DofE experiences. It seems everyone who has done DofE has a funny story to tell. He then invited me up to deliver my speech.
"During my speech, I spoke about how volunteering had given my life more purpose and made me happier and given me great life skills.
"Even though I was nervous before my speech, I had recently attended a public speaking Zoom session through DofE, which gave me ideas on how to make my speech more effective.
"I also had the chance to speak to the Secretary of State, Michelle Donelan, and it was so fascinating to hear about her role in parliament.
"All in all, I felt like this was once in a lifetime opportunity and I can't wait to go into the world of politics myself."