DofE participant supports local ecology group In Dorset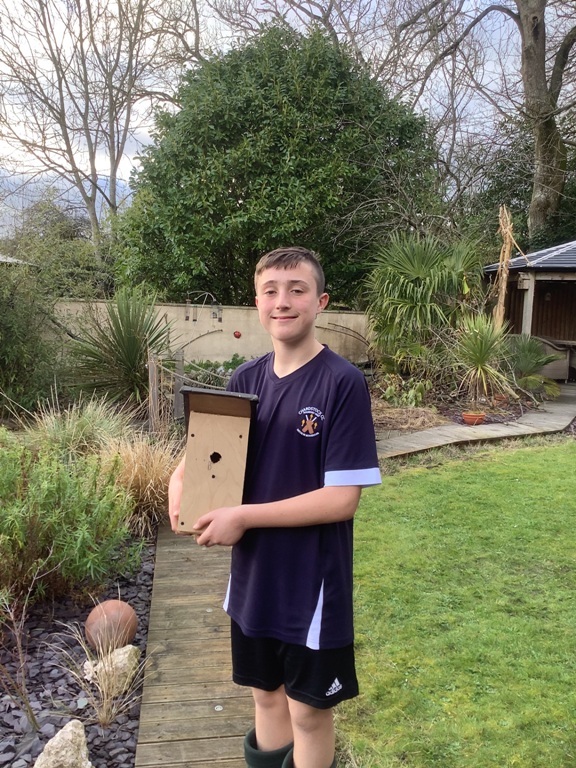 A Bronze DofE student has implemented an innovative project to support local birds as a part of his Volunteering section.
Archie Garth is completing his Bronze Award at Axe Valley Academy and reached out to Chardstock Eco Group to enquire about leading a project to raise awareness about the plight of garden birds. Archie's project – Our Birds Join Us – sees him putting up bird feeders around the village which he will keep topped up and maintained for the duration of the project.
Vicky Whitworth, chair of Chardstock Eco Group said: "It was a jolly nice surprise when Archie volunteered. We're always keen to have young people involved with our environmental work, and we know it can sometimes be difficult for Duke of Edinburgh candidates to find a volunteering placement. We wanted Archie to have a positive and slightly challenging experience, so we asked him to come up with an idea that he wanted to pursue. His idea was pure genius. It's a different take on the subject."
Archie is placing a lot of emphasis on feeder cleanliness and has created an information leaflet which stresses the importance of bird hygiene and gives tips on how to clean bird boxes and feeders.
Archie says: "People don't realise how important it is to keep the feeders clean. I know I didn't. But you don't want to be feeding birds rotting peanuts. I love garden birds and I want to do what I can to keep them healthy."
Archie has also been volunteering in Chardstock Community Shop, where they have allowed Archie to put one of the feeders outside, where a lot of people gather to chat to their neighbours. Archie has also installed a bird box post box at the shop where people can pop a note to say what birds they have seen in their garden.
Archie adds: "I'd love people to stop and chat to me if they see me out topping up the feeders.  The idea is to get people talking about garden birds and realising they can do a lot to help. As I grow up I want to see lots of birds in my garden. Greenfinches are in serious decline. It's time we all did something to make things better for birds."
Vicky Whitworth says: "Chardstock Eco Group shares Archie's love of birds and we thank those local residents who have agreed to host one of Archie's feeders on their land and those that have sponsored the feeders. We are also grateful to South West Water for giving us a small grant towards the bird food. Archie tells me that his favourite garden bird is the bullfinch, but he also loves birds of prey.
Chardstock Eco Group has enjoyed working with Archie, and has now been approached by another young person about to embark on their Silver DofE Award. The experience of getting young people engaged with environmental work has given the Eco Group the idea to create a volunteering activity with an environmental and river water quality-related theme which can be slotted into the Duke of Edinburgh Award, enabling environmental groups to support young people to complete their Award in a structured and positive way."