Somerset County Council celebrates long service achievements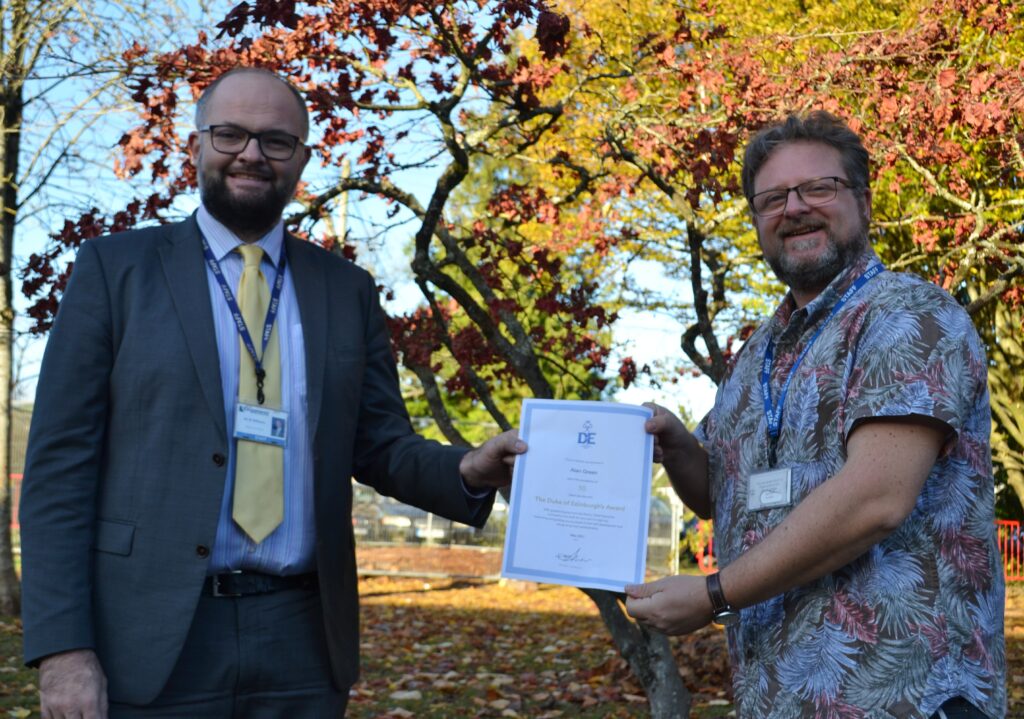 Somerset County Council have been celebrating after several their DofE Coordinators received long service awards in recent months.
Cath Clark has been a part of the DofE team at Haygrove School for the past 30 years. Mr Reid is the headmaster at the school and was full of praise for her dedication.
Mr Reid said; "Over the past 30 years, Cath has been an inspiration for thousands of children at Haygrove School to take part and complete the Duke Of Edinburgh's Award. Her dedication to providing children with a rounded education which develops community, teamwork and confidence. This not only influences the children she works with, but their families and the staff she has undoubtedly touched with her care and compassion. We are desperately sad that Cath is now moving on to new ventures but we will look back on her time here with fond memories. We wish Cath the very best and want to express our appreciation for her efforts, encouragement and motivation. You make us all very proud to be your colleague and friend."
Steve Marsh has been a DofE Coordinator at Frome Community College for 25 years. Heather Thompson, the Director of the DofE in the South West, thanked Steve for his efforts over the years.
Heather said; "Many thanks for all you've done over the years Steve for the Duke of Edinburgh's Award. You've given hundreds of young people life changing opportunities. Thank you."
Trish Wedlake's DofE journey has lasted for 30 years, most recently as an Operations Officer in Somerset.
She said; "Since becoming involved in the Duke of Edinburgh Award in 1991 at Richard Huish College, I have seen enormous changes and the growth of the award. When I began, every participant was given an Award book in which to record their Sections, expeditions were 'the thing' and assessors had no formal training. On moving to Yorkshire, I ran the Award at Queen Margaret's School for girls before returning to Somerset and taking up the position of Operations Officer for Somerset County Council. In that time DofE has moved into the digital age; books were phased out much to the horror of many leaders, and eDofe was the way to go. Courses began for Assessors and Supervisors and overall the award becoming much more inclusive – something for everyone. It has been an amazing journey and one I am proud to have contributed towards."
Finally, Alan Green has completed a decade of service after acting as a Coordinator at Kingsmead School for ten years. Trish Wedlake worked alongside Alan in that time.
Trish said; "Alan ran the Duke of Edinburgh's Award for ten years at Kingsmead School with enthusiasm and dedication. He has been an inspiration to many of the young people who have passed through the school, offering them the opportunity to participate in the Award and giving them a well-rounded experience which they will always remember."
Carol Authers is the DofE Manager for Somerset.
She said; "My heartfelt thanks go to Trish Wedlake, Cath Clark, Steve Marsh and Alan Green for their support of the award over the years."