Expedition in a restricted space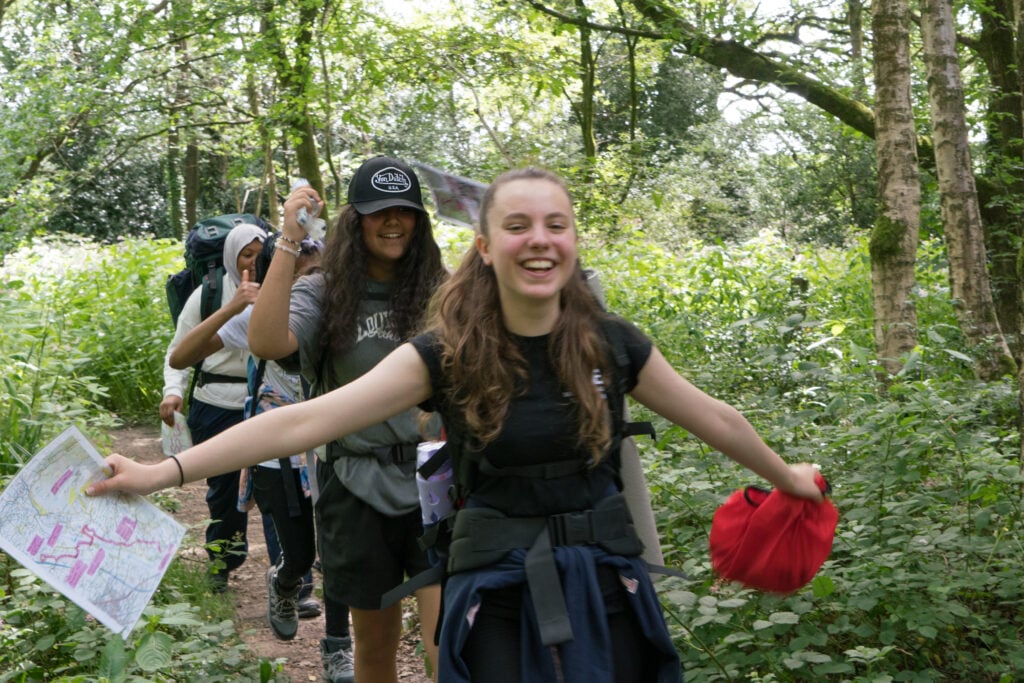 After completing their Bronze expedition during Covid, a Girlguiding UK group decided for their Silver they would undertake a 'bushcraft' expedition, where they focused on learning skills that would help them be self-sufficient in the outdoors. This allowed them to contain their expedition to a nine-acre site with access to fields, woodland and a pond. The participants wanted to do something different to their previous walking expedition at Bronze, and to have more agency in choosing a variety of activities.
During their expedition training, the team covered how to set up shelters, hammocks, fire lighting, cooking on wood and charcoal, and the safe use of knives, axes and saws. They then undertook a practice expedition where they put these skills into use and planned for their expedition aim – one group aiming to plan a tree trail on the site, and the other to clear undergrowth and plants growing into the pond. On each day the young people also undertook physical activities such as collecting wood from the woodland or surrounding fields and walking the area to check for nature.
As the expedition took place in a restricted space, the hammocks, cooking area and living area were all set up on the first day, and only taken down on the final day. To make up for the time usually spend setting up tents, the group also did a couple of hours of evening activities, including a night-time ramble with a bat detector to listen for bats at sunset, star gazing and plotting the different constellations. Due to the extreme temperatures on the practice expedition the team slept in camping pods as the temperature fell below zero.
Due to the remoteness of the location, a Leader also stayed on site at all times, but kept up the remote supervision and only visited the group on odd occasions throughout the day.
Dawn, DofE Leader says: "This expedition was a challenge with the girls learning to live in the woodland, keep all their kit dry and cook everything on open fires. Given that they didn't really leave the site much they still covered about 8km per day, and they were surprised by the amount of physical work that they did. It certainly wasn't an easy option, and they learnt a huge number of new skills."
Sophie, DofE Participant says: "I really enjoyed the challenge of living in the outdoors for the three days, and we had to be much more self-motivated than on a normal expedition. Normally you just walk and put your head down, but here we had to choose which activity we were going to do if the weather changed and make sure we got it done in time before moving on to the next part of our plan. I liked that we were in control of what we did."