The good news-round – 18th May
1. We launched 'Achievement for all'
The 2020 DofE Certificate of Achievement will be issued to all participants who have completed their Skills, Volunteering and Physical sections at Bronze, Silver or Gold level, but haven't been able to do their expedition because of the pandemic. We've also added some expedition flexibilities that take into account different social distancing challenges.
On Friday we announced an exciting new initiative to recognise participants' DofE efforts and a range of flexibilities to help LOs facilitate expeditions over the next 6-12 months.
2. DofE volunteers were out in force
Over the last week we've seen so many fantastic examples of young people volunteering. Freddie has been busy making meals for hungry families, another participant is making and delivering face masks to those in need and Silver participant, Imogen has been volunteering with Bedford Food Bank to cycle between houses safely collecting enough food to make 33 meals. Well done to you all!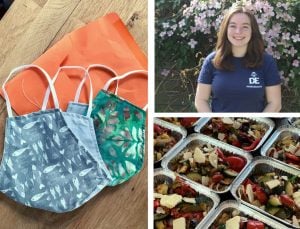 3. The 2.6 Challenge continued to raise money for the DofE charity
Sixth form student and DofE Ambassador, Molly raised almost £500 for the DofE whilst doing her own 2.6 Challenge! She walked an incredible 2.6km every day for two weeks and six days.
4. A rescue dog has saved more than 100 koalas following bushfires in Australia
Bear, an Australian Koolie dog who was abandoned by his family, has been recruited to save tens of koalas following devastating bushfires in Australia. The surviving koalas, who are now living in uninhabitable terrain and are at risk of health problems and starvation due to the fires, are tracked down and rescued by various charities.
5. Rotterdam's night sky was lit with a beating heart for key workers
Illuminated drones created a red beating heart in the sky in the Dutch city of Rotterdam as a tribute to key workers on the coronavirus frontline. The light show featured 300 glowing, autonomous Intel Shooting Star Drones, which were programmed to mimic the behaviour of a murmuration of starlings in the sky.
6. A pet ferret has raised more than £2,200 for children's book charities
Eight-month-old ferret, Bandit, has raised more than £2,000 for children's book charities by completing a full marathon (26.2 miles) over two and a half weeks. Owners Jim and Arabella took Bandit on walks with their children to raise the money for children who, during the pandemic, would otherwise not have access to reading and learning materials.