The DofE and Heathrow's new strategic partnership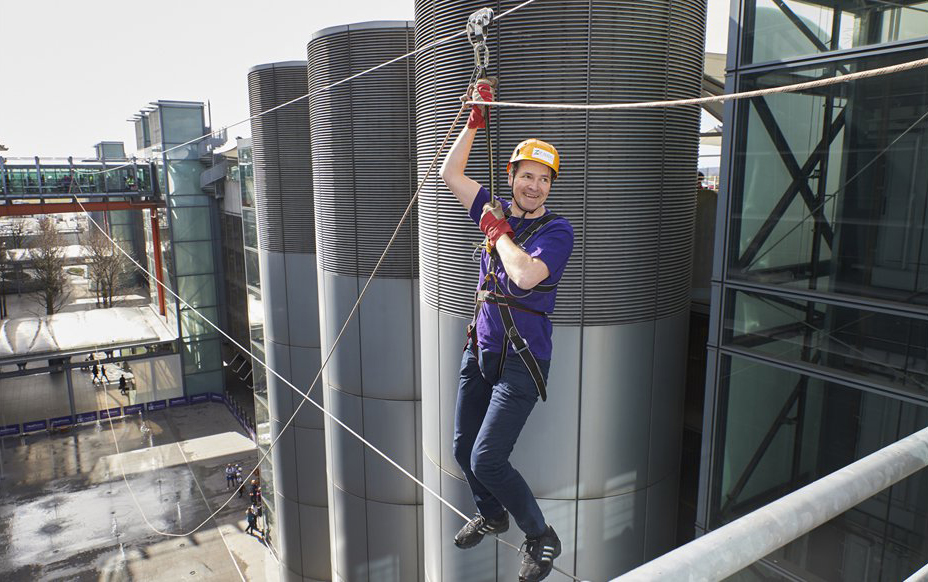 Heathrow and The Duke of Edinburgh's Award (DofE) yesterday announced a major three-year partnership, designed to help over 350,000 young people from diverse backgrounds start a life-changing DofE Award each year by 2021.
Support from Heathrow will fuel the DofE's plan to reach more young people from diverse backgrounds and equip them to succeed in life, in the boroughs closest to Heathrow and across the UK.
Colleagues from across the airport kicked off a fundraising drive by taking on the first in a series of DofE Challenges: 'The SkyWire'. This high-adrenaline DofE Challenge took place on 14 March 2018, celebrating our partnership and commemorating the tenth anniversary of the opening of Terminal 5. Over 75 colleagues signed up to inch their way across a thrilling 30-metre-high, 50 metre-long wire in under 5 minutes, connected to two high-rise bridges in Terminal 5.
Heathrow's employees aged under 25 will be offered the opportunity to take part in a Gold DofE programme alongside their formal training, a programme to help develop high potential talent that has run successfully at Heathrow since 2013. 66 young people have achieved Gold Awards to date, and 73% have progressed into new roles, with 15% in management positions.
The programme has proven so successful that Heathrow's partners and suppliers will also be invited to offer the opportunity to their own young colleagues, and join Heathrow by getting involved in a programme of DofE Challenges, and the DofE Adventure, a two-day DofE-inspired hike in the Cotswolds in September 2018.
Heathrow will also be giving targeted support to empower more local young people to participate in the DofE, learn new skills, and help to guide young people towards volunteering activities. This is part of Heathrow's passionate belief in the power of social action to help young people develop the skills and qualities they need to reach their full potential and make a significant contribution to their communities. Heathrow and The Duke of Edinburgh's Award are partners of the #iWill campaign, a UK-wide campaign aiming to make social action a part of life for as many young people as possible by the year 2020.
John Holland-Kaye, Chief Executive Officer at Heathrow, said: "Over the past few years, I've seen many of our colleagues progress into new roles after taking part in the Duke of Edinburgh's Gold Award programme offered at Heathrow, and I could not be prouder. We look forward to continuing our strong partnership with the DofE for years to come."
Peter Westgarth, Chief Executive of the DofE, said: "We are hugely grateful to Heathrow for its strong support for the DofE. The commitment, energy, and fun the whole team brings to our partnership makes it an alliance to be proud of. We recognise that young people who get the chance to start their DofE build vital skills, perform better in school, and feel happier and healthier than before. Heathrow's funds will fuel our ambition to reach 350,000 young people a year by 2021, the most ever, including 70,000 who come from disadvantaged backgrounds. Moreover Heathrow's support sends a signal that major employers really rate the skills the DofE offers."