DofE in a young offender institution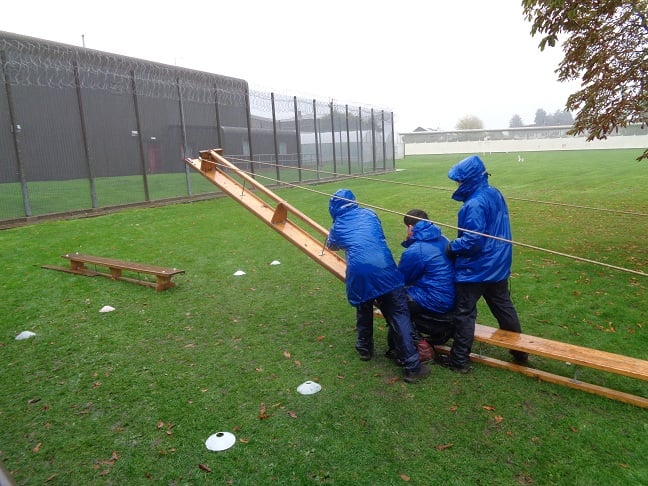 Offering young offenders the chance to do their DofE and gain essential skills, experience and confidence can transform their direction in life. Take Jon, who got a taste for cooking whilst achieving his Awards in prison who, on release, pursued a career as a chef and now runs his own catering business. You can read his story here.
But at a maximum-security young offenders institution, completing each DofE section is certainly more challenging than for other participants, and we're grateful to the DofE Managers and Assessors that make this happen. Here's how it works at HMYOI Aylesbury for Bronze participants.
Volunteering
For the Volunteering section of their DofE, the group got to work repainting the gym and classrooms at HMYOI Aylesbury.
They also marshalled the institution's own parkrun, which gives young offenders the opportunity to get outside, participant Tariq remarked "It's a different environment from being in a prison cell – I wanted to add something else that was good to my record."
Skills
The Bronze participants took part in a variety of activities for their Skills section, including learning Level 3 First Aid and attending offender behaviour programmes; including anger management, the 'Listener Scheme' which is delivered and run by the Samaritans and 'Toe by Toe, a programme where the participants help other inmates with their reading skills.
Reflecting on the best part about doing his DofE, Tariq says; "We became closer as individuals, (DofE) became fun and wasn't what I expected. I thought it would just be something positive on my record but I've learned life skills."
Expedition
As a maximum-security prison, the participants cannot leave the grounds, so their expedition is done on site and is primarily focused on teambuilding. One activity is helping each other to get through obstacle courses made from rope, without touching it. They also had the opportunity to camp outside within the grounds, and for a lot of the participants this was their first-time camping. Which while a challenge for some, allowed the group to have new experiences with each other.
DofE Expedition Assessor Marc, explains that; "As staff, people put up a front in prison, it is good to see them all together – being themselves."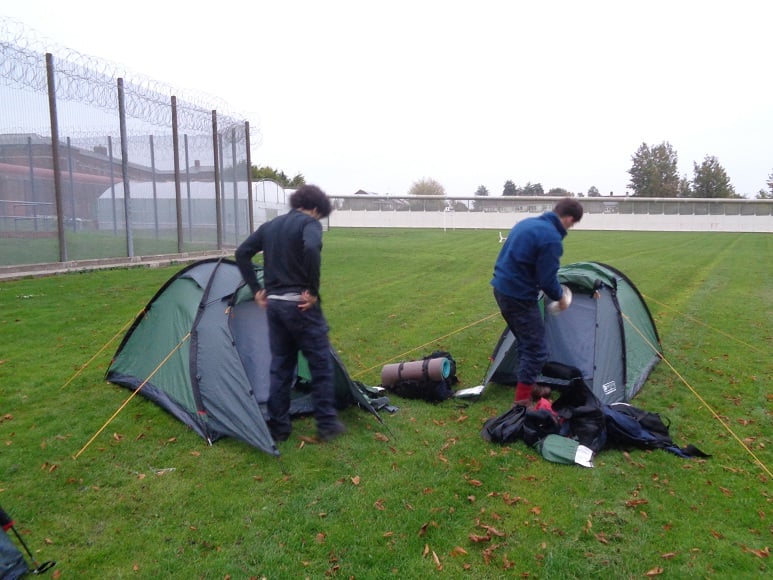 Physical
Traditionally, to complete the Bronze Physical section, participants would usually do one hour per week of physical activity over three months; but in this case, adjustments were made to accommodate the offenders' circumstances. The group took part in a gruelling 'Nine Hour Challenge' for their Physical section, which took place outside on the sports field. It involved three hours of running, three hours of cycling on mountain bikes and three hours on rowing machines. The challenge required teamwork and communication; as the nine hours had to be consecutive between all the individuals. One participant, Nick, was aware of the significance of working together; "if one quits and fails, we all fail – it was a team effort."
As part of the activity, they also raised money and picked local charity, The Oxford Hospital Charity, to donate over £1000.
At HMYOI Aylesbury, participants can achieve their Bronze Award, and DofE Managers work hard to prepare them for as much of their Silver Award as can be done in advance, until they leave and can complete their expedition.
Currently, none of the young men that have achieved their DofE at HMYOI Aylesbury have re-offended.