Young people dedicate 1.8 million hours to volunteering during the pandemic
The Duke of Edinburgh's Award announces its annual statistics 2020/21.
In a year full of unprecedented challenges, young people stepped up and played an integral role in supporting communities across the UK to respond to the coronavirus pandemic. A remarkable 330,000 young people continued with their DofE activities – a huge force for good, dedicating 1.8 million hours of volunteering, equating to an investment of almost £8.5 million, to local communities at a time when they needed it most.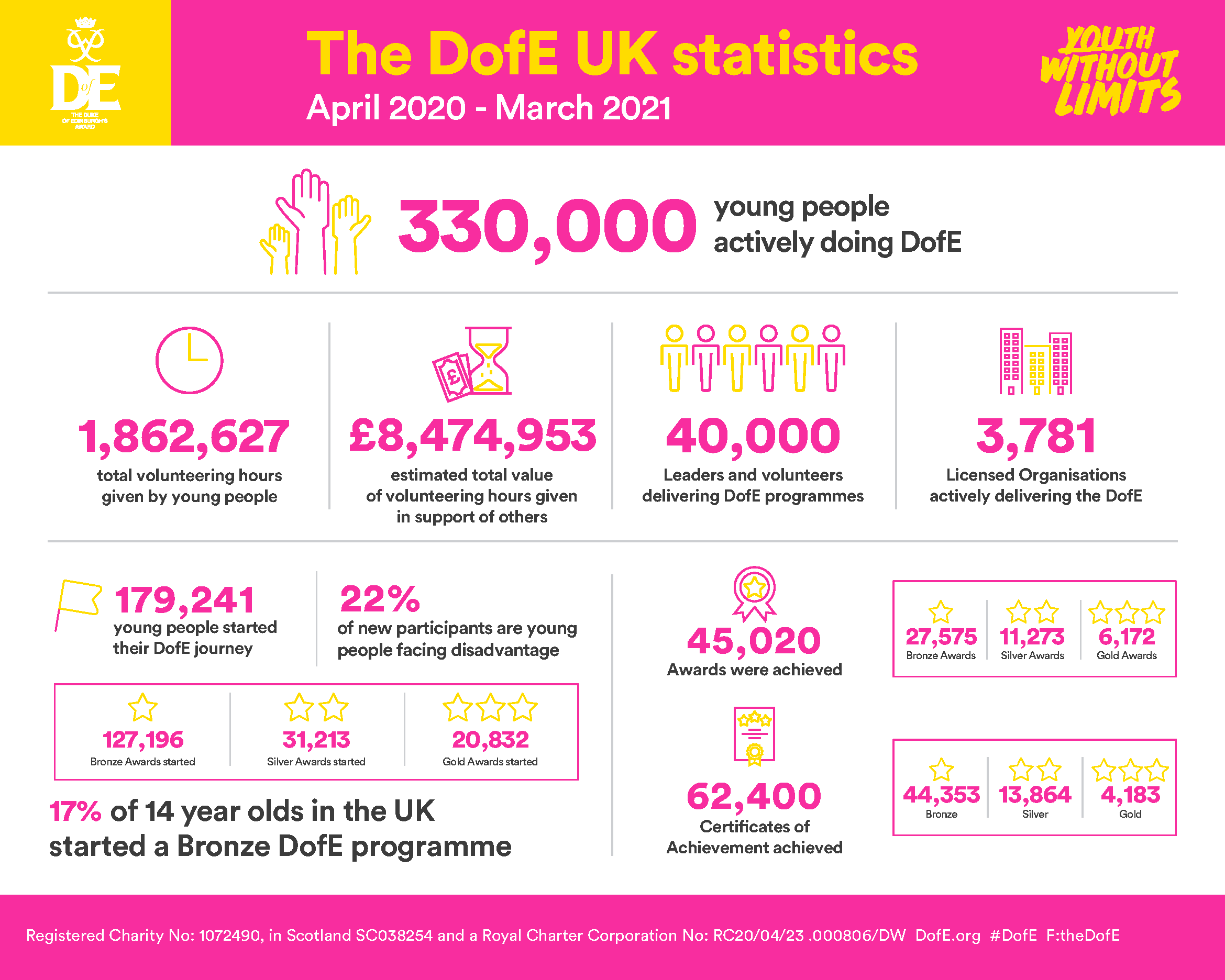 Young people's extraordinary efforts transformed the pandemic experiences of some of the most vulnerable in our society. DofE participants sewed PPE at their kitchen tables, delivered food parcels to those who needed them and put on virtual concerts for care homes. Bernard, a resident at Royal Star & Garter care home in London, watched filmed piano recordings from DofE participant Jemima. Care home activities manager Raquel Pena Aristizabal said: "Bernard's reaction was so moving. [Online] visits like these mean the world to our veterans".
COVID had a big impact on everyone's year and DofE was no different but despite extensive school closures, suspended youth services and stay at home rules that restricted young people's access to DofE during the year, a staggering 180,000 young people across the UK started their DofE and 45,000 achieved an Award.
A further 62,400 young people earned their DofE Certificate of Achievement, a new accolade introduced by the charity to recognise young people's efforts in completing their Volunteering, Skills and Physical sections during a year when expeditions and residentials were largely not possible. These figures are testament to the passion, commitment and resilience of young people and the amazing 3,781 organisations and 40,000+volunteers that continued to run DofE, including schools, youth groups, fostering agencies and young offender institutions.
22% of new DofE participants, almost 40,000 young people, were from a disadvantaged background, including young people facing financial hardship, those within the criminal justice system and those with special educational needs or disabilities. For these young people in particular, DofE can be life-changing, providing invaluable development and a recognised achievement that levels the playing field.
Bronze Award holder Danny did his DofE through the Youth Offending Service: "You don't always have to choose the wrong path. I don't believe I'd be doing [my job as a joiner] without [the DofE]. I'd still be messing around and getting into trouble. [Doing DofE] has showed me so much more. You get a sense of pride from doing it."
Ruth Marvel, DofE CEO said: "I'm hugely proud of young people and our exceptional partners –our Licensed Organisations, donors and supporters – that stand behind these fantastic results. Despite the most challenging circumstances, so much has been achieved, and hundreds of thousands of young people have had the chance to develop the confidence, resilience and self-belief they need to be ready for anything life throws at them.
These skills and attributes are critical for young people, helping them do better in education, improve their mental health, get the job they want and make a positive difference in their community.
"We're about to launch a new strategy to continue The Duke of Edinburgh's legacy and expand our reach to more young people, in particular those who are the most marginalised in our society. Never has the DofE been more important. Right now, only 40% of young people have regular access to the extracurricular activities like sports, creative arts and volunteering; learning we know is critical in helping young people recover from the pandemic. Our ambition is to give a million more young people the life-changing opportunity of doing DofE over the next five years."
How the DofE adapted in 2020/21
Changes and initiatives launched by the DofE charity to enable young people to keep going with their activities during this time:
– #DofEWithADifference helped young people to do their volunteering, skill and physical activities at home and whilst social distancing.
– We introduced changes and flexibilities to the Expedition section that support Leaders to modify the format of the expedition to address COVID restrictions, for example, participants not needing to leave their local area and being allowed to go home to sleep.
– For young people who couldn't do their expedition or residential, we introduced the Certificate of Achievement to recognise young people's success in their Skills, Volunteering and Physical sections.
– We hosted virtual support sessions, moved training online and created tailored plans for DofE Licensed Organisations, to help them deliver DofE whilst juggling a number of new and challenging priorities.
– We launched the Resilience Fund, with the support of our amazing donors, so that more young people facing marginalised can start their DofE, offering funded participation places and training for Licensed Organisations.
UK figures April 2020-March 2021
Young people actively doing DofE – 330,000
Total number of volunteering hours – 1,862,627
Volunteering hours financial equivalent – £8,474,953
Awards started total (young people who started their DofE journey) – 179,241
Bronze – 127,196 (17% of 14 year olds in the UK)
Silver – 31,213
Gold – 20,832
Awards achieved total – 45,020
Bronze – 27,575
Silver – 11,273
Gold – 6,172
Certificates of Achievement achieved total – 62,400
Bronze – 44,353
Silver – 13,864
Gold – 4,183
Young people facing marginalised starting their DofE – 22% of new participants
Licensed Organisations actively delivering the DofE – 3,781
Leaders and volunteers delivering DofE programmes – Around 40,000