Ewan provides "Bags of Hope" for his local community
When lockdown started, Silver Award participant Ewan had to re-think the activity he was doing for his Volunteering section.
"In lockdown we have been doing the NHS clap on a Thursday night. There is also more than just the NHS still working so I wanted to find a way to thank them as well. I thought of doing a keyring, then as I was helping clear out the loft with Mum we found some of their old wedding favours. I thought how nice it would be to create a keep sake along with the key rings, so they will always have this to look back on and remind them of the great job they did."
Calling them "Bags of Hope", Ewan put considerable thought into the items that could go into the bags, and wrote a poem to accompany the items:
"A star for you to wish upon
An elastic band for you to stretch beyond your limits
A penny so you are never completely broke
A candle to light your way
A marble for the days where you are sure you have lost yours
A diamond to keep the sparkle in your eye."
He is handmaking the keyrings to go inside the bags, crafting rainbow bead angels and messages of hope. Whilst maintaining social distance, Ewan is delivering many of the Bags of Hope in person.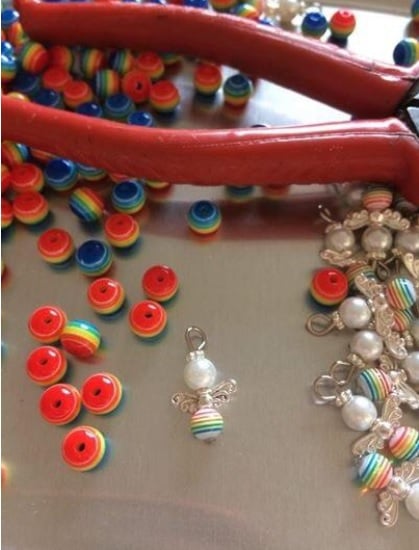 Within his local community over 300 Bags of Hope have already been delivered to the fire station, police station, Berwick Infirmary, sorting office and post office, the RNLI and Tweedview care home. But Ewan is not limiting himself to just supporting those in his local community – a Bag of Hope was posted to Captain Tom Moore for his 100th birthday, and another was sent to Prime Minister Boris Johnson, for which he received a response from Downing Street.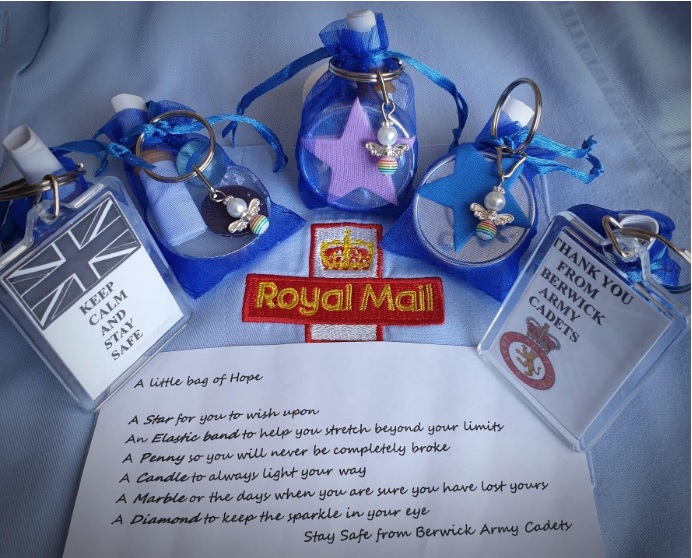 Ewan is doing his DofE through the local Army Cadet Force Unit in Berwick-Upon-Tweed. Detachment Commander Lt Debra Jerdan, who herself received a Bag of Hope, said "Ewan's Little Bags of Hope project has raised the spirits of a lot of the town's keyworkers. He has spent a lot of time planning, preparing and delivering over 300 of them so far. His thoughtfulness, his focus, his dedication and his appreciation for those working on the frontline during lockdown has been inspirational."
Creating the Bags of Hope is helping Ewan to stay positive during lockdown. His advice to other DofE participants considering what to do for their volunteering is "to look at everything around you like volunteering groups, hospitals or care homes and think- 'what could I do to help'."
Although he has now completed his DofE Volunteering section, he is continuing to produce his Bags of Hope to ensure that no key worker in his local community is missed.