Doing the DofE inspires new venture
Continuing development of the resilience, determination and passion for learning that she gained whilst doing her DofE, Gold Award holder Francesca has been maintaining positivity during the pandemic by focusing on physical exercise and launching her own business.
"I did my DofE because I love being outdoors and active. Inspired by my DofE expeditions, I have been de-stressing during the pandemic by going on long walks in the countryside. I wanted to carry the bare minimum of my phone, earphones and a drink but found the water bottles I had didn't fit in small bags or coat pockets. I decided to investigate the possibility of creating the perfect product myself and starting my own business."
Launching a business during a pandemic has obvious challenges but doing her DofE instilled a will in Francesca to continually develop her skills and be creative to push her new venture forward. "Doing my DofE has inspired me to continuously learn and explore. I have taught myself to code HTML, utilise Google Analytics and calculate the carbon footprint of products."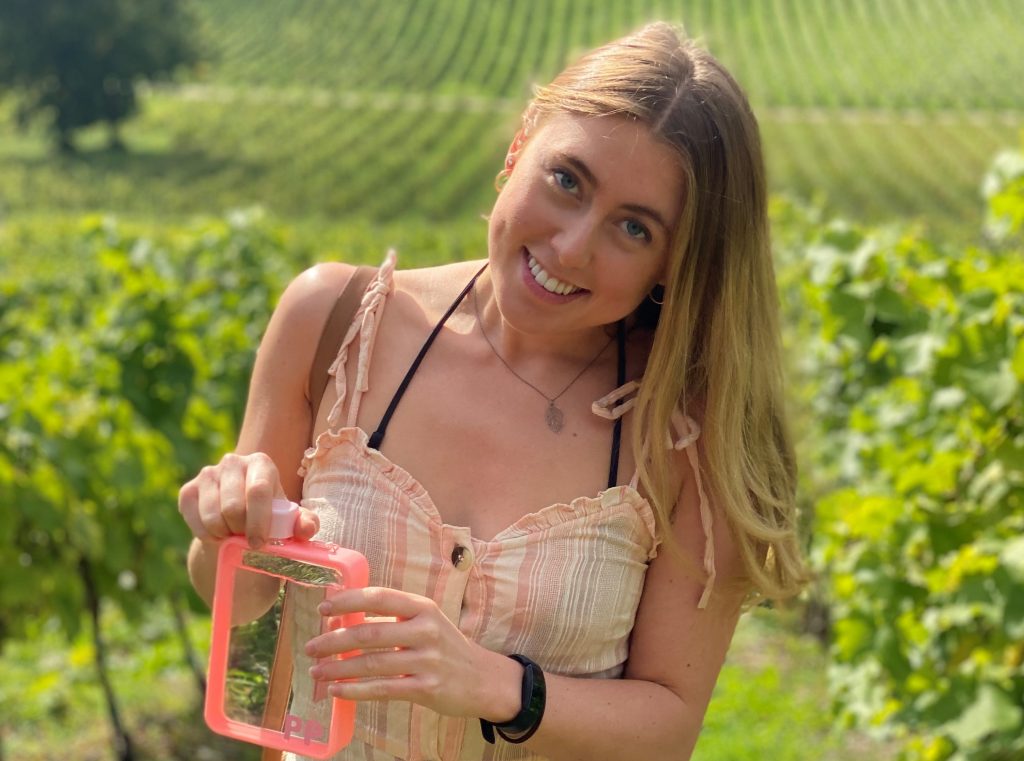 "I launched H2OSQD, a sustainable brand creating personalised, reusable water bottles to give myself and others a way to stay hydrated and sustainable on trips out. The flat design means the bottle fits into small bags and coat pockets, making it easy to carry water with you. By using reusable water bottles, we can help reduce single-use plastic water bottles every year in the UK of which 78% are used on-the-go."
Francesca says she "still uses the philosophy of the DofE by continuing to learn new skills and stay physical" and hopes sharing her personal journey and how the DofE has helped her will motivate young people doing their DofE With a Difference to keep going with their activities.
To young people struggling at the moment, she recommends maintaining connections with other young people virtually and spending time outdoors, where Government rules allow. "I made lifelong friends from doing my DofE who I chat to every day and doing the DofE together taught us teamwork, which is a really important life skill. I also find getting fresh air and walking gives you time to reset, and a positive mindset will help you go far."
Take a look at DofE With A Difference for ideas and advice on how you can keep doing your DofE during the coronavirus outbreak.
And don't forget – if you've completed your Physical, Skills and Volunteering sections but can't do your expedition right now, we've introduced The 2020 DofE Certificate of Achievement to formally recognise your achievements at this extraordinary time.