The good news-round – 27 April
As we go into another week of lockdown, we look back at the past week to bring you inspiring news of hope and perseverance from the DofE and around the world.
1. DofE kicked off their #TwoPointSixChallenge 
Sunday saw the start of the #TwoPointSixChallenge, a challenge set up by the London Marathon to raise money for some of the UK's biggest charities by encouraging them to fundraise around the numbers 2.6. Already, people have been raising money for the DofE by baking 26 loaves of banana bread, doing 26 push ups and walking 26 miles. Well done and thank you to you all so far!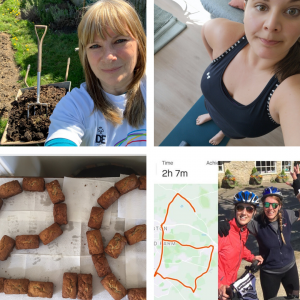 2. Young people learnt new skills 
DofE participant, Phoebe, was determined to continue learning sign language for her Skills section. Although she previously signed up for face-to-face courses, with the coronavirus outbreak, she signed up for an online course instead. Read her full story. 
3. DofE staff gave Covid-19 the boot 
Last week, DofE staff from across the UK took part in a new social media campaign, #GiveCOVIDtheboot. Teams filmed themselves 'passing a boot' remotely to their colleagues. You can see some of the videos on our X page.  
4. A Gold DofE participant donated loads of food to a food bank 
William, from Scotland, rallied his neighbours together and collected an amazing 58 bags of food for his local food bank. We're extremely proud of William continuing with his volunteering and making a difference to his local community! 
5. A Newcastle couple held a virtual wedding day in lockdown 
A couple from Newcastle, whose wedding day was postponed due to coronavirus, held a virtual ceremony in their garden. Maid of honour, Rebecca Ziantoni, "officiated" the ceremony – rewording their vows and pronouncing the couple "still not married" – and was joined by cardboard guests and friends and family on Zoom. 
6. A parcel addressed to "somewhere in Sheffield" was delivered by a detective postie 
David Easson's friend sent him a parcel of chocolate bars from Sweden in a package marked "vital survival stuff", but not knowing his address in Sheffield, the sender decided to write everything he knew about his friend on the cover. The postman who received it then turned to Facebook to find the rightful owner.  
7. A tiny IVF frog is bringing hope to at-risk species 
Olaf the tiny toad is the first amphibian to be born from sperm that was frozen and thawed. Texan scientists were elated that they were able to recover a genetic lineage that had disappeared, so were able to reintroduce genetic lines back into the population.