Leader Profile: Rob Sigley
Doing their DofE in Further Education is an excellent way for students to build confidence, resilience and important life skills – and can be a major benefit when it comes to applying for jobs or university.
Having been a DofE Manager for two years, Rob Sigley – Supported Internship Co-ordinator at Newcastle and Stafford Colleges Group – highlights the importance of offering the DofE in colleges.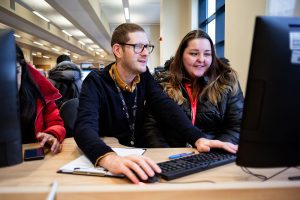 "We wanted to do the DofE at Newcastle College because we wanted to give learners the opportunity to take part in extra-curricular activities and to strengthen their CV; so when it came to applying to university or employment, it make them stand out from the crowd."
One of our key principles is that the DofE is open and accessible to everyone. At the Newcastle and Stafford Colleges Group, Rob ensures that this is possible by supporting a group of students who have special educational needs and disabilities (SEND) to do theirs, giving them time to do both their DofE programmes and their college work. As participant Alistair Smith explains:
"We have coursework, but we do it in lessons instead of taking it home. This gives us more of a mental state to focus on one thing at a time – and the DofE is that main thing. The lessons are catered to everyone's needs which helps us achieve and get through the DofE and the challenges we face in everyday life."
College students are often balancing assignments, classes, exams and part-time jobs – so the key to running the DofE successfully in Further Education is often flexibility. Meeting with your group before or after the college day is often the best way to get every participant together when timetables don't line up.
Over the years, the DofE has become increasingly popular at Newcastle and Stafford Colleges Group, with 60-70 participants each year.
"We started it with our Foundation learners, so learners who have a learning disability or difficulty, because it's a great opportunity for them to take part in something amazing and inspirational and get them out the house doing something they would probably never do before. It's just an opportunity for them to take part in something and achieve something at the end of it."