Onyii speaks to over 2,000 Gold Award holders at Monday afternoon's Gold Award Celebration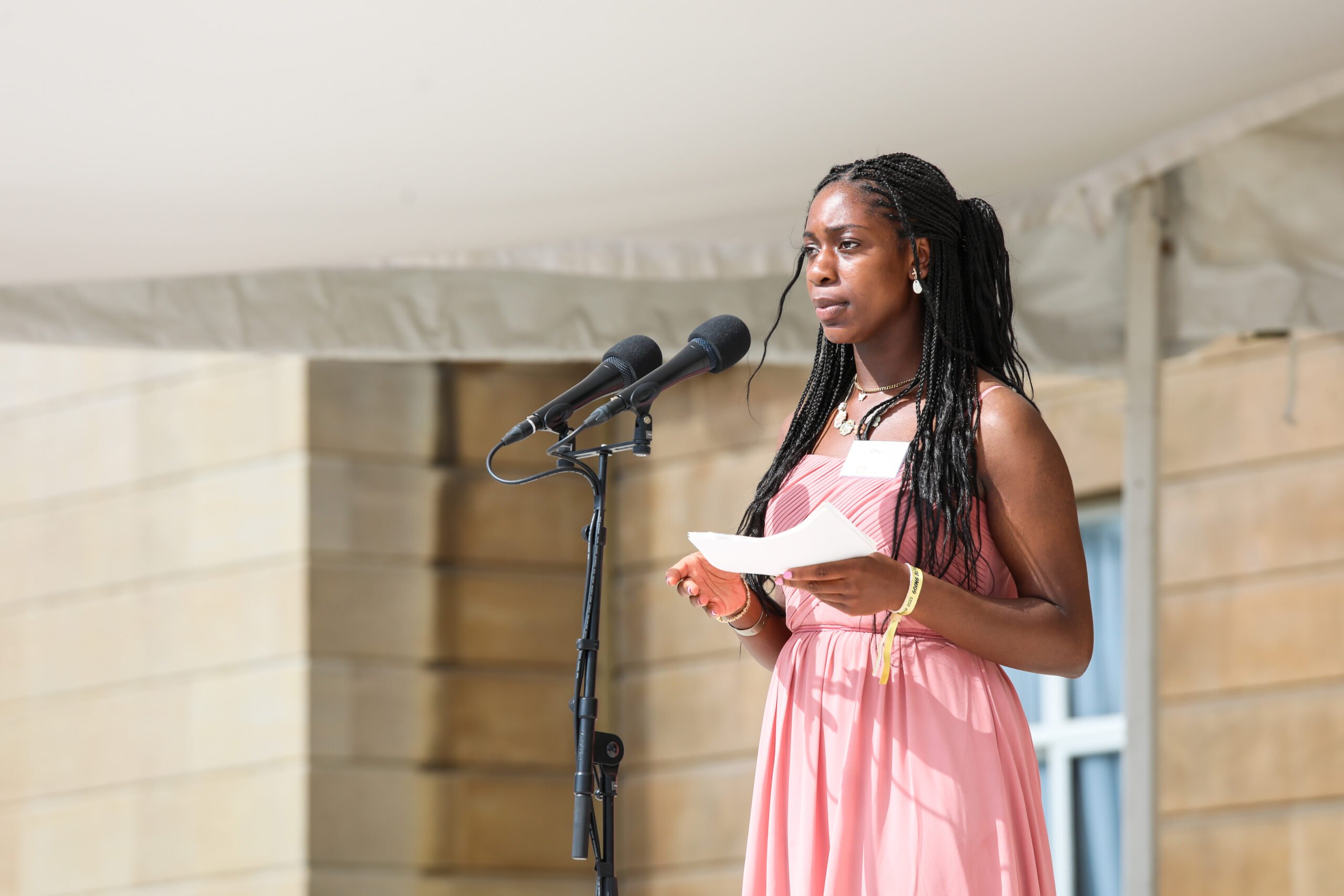 Alongside firefighter Ffion, fellow Gold Award holder Onyii also spoke on the West Terrace at Buckingham Palace to young people and their guests in the afternoon of Monday's Gold Award Celebration. Read her inspiring speech.
Good afternoon, everyone, my name's Onyii, I'm 17, and I am from Glasgow in Scotland. I just want to start off by saying a huge congratulations to every one of you standing here today – the Gold Award is a big achievement, and you should all be massively proud of yourselves. I'll be celebrating my own Gold Award on Friday alongside my friends who I've shared so many DofE experiences with, So I'm super excited and looking forward to the celebration.
I remember hearing a quote somewhere, that said that the key to being successful was to never miss out on an opportunity.? When I heard it, I wasn't as motivated as I am now. I'd always think, well if miss this opportunity, another one will surely come up, so what's the rush? However, I was completely wrong.
When my school offered me the chance to take part in the DofE Award, at first, I honestly didn't think it would be for me. There was a reason why I let so many opportunities pass by… For some reason, I didn't think I'd fit the criteria. It was really easy for me to fall into this way of thinking.
I'm so glad I made the decision to say yes, and I now feel like I truly understand exactly what that quote really meant. One opportunity can lead to so many more. I wouldn't be standing here today, speaking to thousands of people, if I hadn't said yes to signing up for my DofE. Nor would I be a DofE UK Youth Ambassador speaking out and voicing my ideas to help create change.
This all shows that being part of the DofE can bring so many new experiences into your life. My whole DofE experience was wild, but some of my most memorable experiences definitely came from the Expedition section. Not only was this the first time I'd camped away independently, but it was also in the forest. And having previously stuck to the city, this was completely new to me.
I remember vividly, on the second morning, waking up, in the middle of nowhere, with a spider in my tent, and thinking… I just want to disappear and reappear back in my bed, watching Netflix with a bunch of snacks. But the more time I spent outside, the more I realised that instead of watching those movies, I was becoming more like the characters in them. There were so many occasions where I was surrounded by nature, and it was honesty so beautiful It felt like I was living a dream.
When we got to our campsite, we binge watched a few episodes of 'The Walking Dead', and for any of you who have watched this show will know that it's full of adventure, and most importantly survival – and at times during my expedition I really did feel like was a character out of this show on a mission… minus the zombies obviously. This was my own adventure: a voyage into the unknown and a chance to expand my horizons.
Another opportunity that allowed me to experience nature was my Residential section, where I went to Blairvadach outdoor adventure centre and tried out so many activities from gorge walking, tree climbing, caving to wild swimming. I distinctly remember one of the activities involved jumping from a height into a pool of water.
At first, I screamed at the idea of it, my legs turned to jelly, and I thought I couldn't do it. But once I finally took the leap, I did it again, and again, and again. And I think that could be said for my DofE too. During my Bronze I was excited but scared, it really took me out of my comfort zone. But once I'd made the leap, I kept coming back – for Silver, then Gold, and then becoming a DofE Youth Ambassador.
So, I'd say to everyone here, remember you've already made that leap, so keep challenging yourself. It all starts with that first jump.
Volunteering through my DofE was also another chance for me to venture outside of my comfort zone. I sometimes found it hard to start conversations with people. However, through my different volunteering activities, I was always communicating with different people – from calling up different charities to support them, teaching primary school children about the dangers of drugs and alcohol, to helping the elderly with their technology.
Being a young person, you can sometimes feel like your opinion isn't considered, but helping the elderly was so rewarding. Growing up with technology meant in their eyes I was an expert, and doing a small task would make them so happy and it was such a nice feeling.
I plan to go to university this year and study Law, something I've been dreaming of since my dad first introduced me to Judge Judy when I was a child! I always found it fascinating. It may have been a reality TV show, but I admired how she puts people in their place, controls the room, and ultimately, delivers justice.
It's honestly something I'm passionate about pursuing, and it covers a huge range of skills from problem solving to teamwork. And I know that the skills I've gained through my DofE have set me in good stead to make this dream a reality.
The fact that WE are standing here today signifies the years of effort, dedication and hard work we've put into this award. Remember to thank your DofE Leaders and Volunteers, who have helped you get to this point.
And finally, your journey doesn't have to end here. We should continue to spread kindness and extend our help to the people we can. Thank you and enjoy the rest of your day.