Young people build community spirit with over 3 million hours volunteered
New figures recently released have revealed the social impact that young people have on their local community. In 2018-19, DofE participants in the United Kingdom donated a staggering 3,231,462 hours of their personal time to volunteer for a range of community causes. To quantify the significance of the support given in monetary terms, this amounts to around £13,087,421 worth of time given in support of others.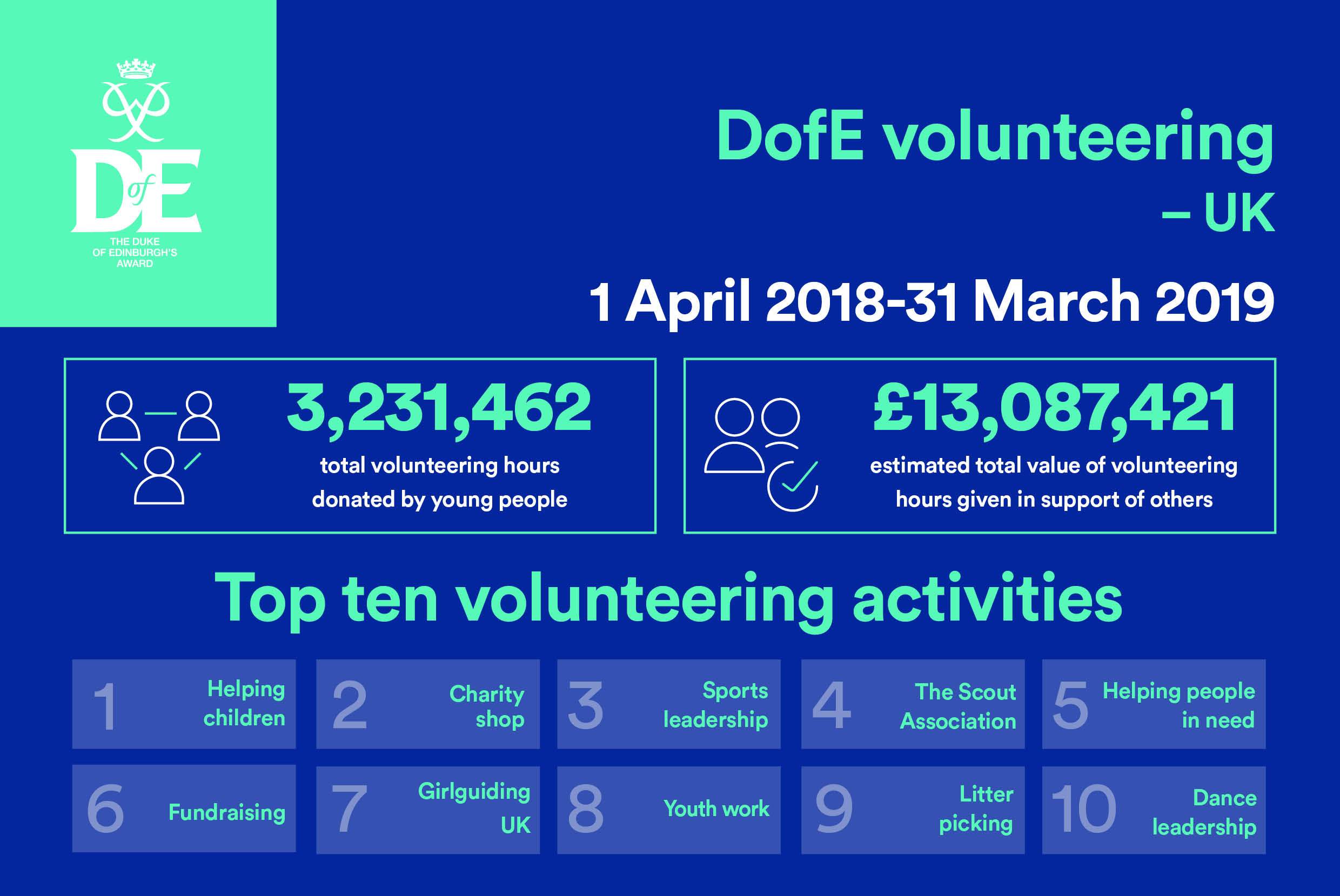 Amongst a whole host of activities, the top 10 volunteering roles fulfilled by DofE participants in the UK were: helping children , charity shop support, sports leadership, Scout Association volunteering, helping people in need, fundraising, Girlguiding UK volunteering, youth work, litter picking and dance leadership.
In the midst of Brexit discussions and uncertain and changing times, supporting those in need, charitable causes, and the breadth of people in society, is valuable not only to the beneficiaries and institutions involved, but to the wider society and young people themselves.
The volunteering activities chosen by young people address a multitude of issues, including sustainability and environmental concerns, loneliness in elderly communities, development and encouragement of younger generations and health and wellbeing. Collectively, it is hoped that the support of the young people involved will go some way to rebuilding the camaraderie and togetherness that society is calling out for.
For DofE participants themselves, volunteering also provides an opportunity to give back their time as others have helped them in their lives, a chance to support across the generations of society and a new environment in which to enhance their skills for life, prepare for the future of work and widen their personal and professional network.
Lucy Aur, a Gold DofE Award holder, who dedicated her time to supporting other DofE participants and fundraising and is now a Regional Youth Ambassador for the DofE, said:
"Volunteering helped shape my life, it gave me something to focus on, be proud of, and a sense of purpose. It gave me the space to grow in many ways and I can now talk to anyone and feel confident addressing large crowds, which is something I was sure I would never do!
Supporting people and worthy causes allowed me to help others while helping myself; I saw young adults with a variety of needs complete their Bronze Duke of Edinburgh's Award, raised money for cancer research and supported people to grow and develop, who I am sure will go on to have their own positive impact on society.
Around my studying, and as well as my DofE Ambassador role, I now give my time to a local primary school and have started my own charitable campaign, the Renegades Foundation, sharing stories of individuals overcoming adversity to show how our struggles do not define us. There is nothing I will say no to if it means getting to help another and making a difference – what more could I want to do!"
Speaking about the impact of volunteering, David Oates, Interim Chief Executive for The Duke of Edinburgh's Award, adds:
"Volunteering is all about making a difference to other people's lives and giving back to society, and these latest figures demonstrate the huge impact that our young people are having in their communities. Giving their personal time to help others is valuable and rewarding for all involved and we hope that Lucy's experience will inspire others to consider doing their own DofE programme and changing things for the better, for themselves and wider society."