Students from Alva Academy, Scotland gain transferrable skills through esports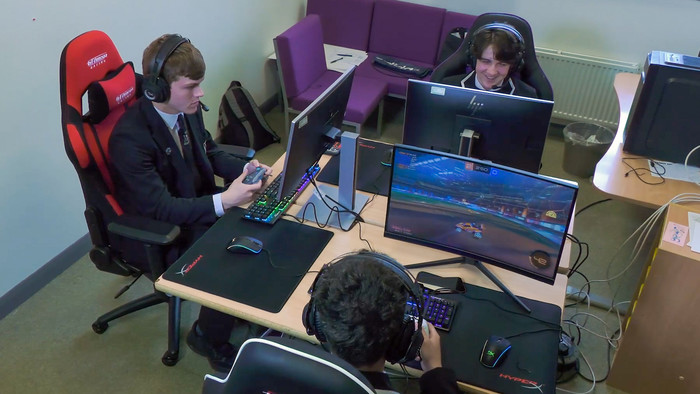 When a group of students wanted to launch an after-school club for esports at the Alva Academy, Scotland they approached music teacher, Miss Liston. A keen gamer herself since childhood, she was well aware of the wider benefits esports could bring into pupils both for their academic career and beyond.
"I started the esports club for two reasons, I've loved games from an early age and it's something that has enriched my own life and given me opportunities that I would never have experienced. Secondly, our pupil founder Kieran approached me one day after hearing that I play video games to let me know he had achieved one of the highest ranks in competitive Rocket League play. Something told me that this was an opportunity to give Alva a community where pupils like Kieran had the chance to thrive and develop this skill that he had spent countless of his own hours perfecting."
"The benefits of both DofE and esports are outstanding and it makes sense for the two to be done alongside each other. We are so excited to get started with our first batch of pupils doing esports as their skill for DofE this year, it allows us to really structure the esports experience and seek even more opportunities to perform as a school in the scene."
"Competitive gaming is not easy, many people view gaming as a relaxing end of day unwind, single player story mode. Esports is not just gaming, it's human vs human, organised competitive play. Many of the skills involved in conventional sports games are just as present in esports like strategy, teamwork, organisation, mechanical skill, problem solving and split second decision making. The overwhelming change that I've observed in pupils is the gradual increase in confidence. Many of our pupils take on additional responsibility when they join a team. This creates a thriving community to allow pupils to grow and explore the esports industry at grassroots level."

"Esports has also helped retain kids into their last year, many have said one of the biggest factors in staying in school is not wanting to leave that esports scene yet, not wanting to miss out on a whole year playing in a team. It's spurred them on to do Advanced Highers. Esports, and DofE, have been a big factor in some students staying on."
"For students at Alva, the esports club has brought certain students out of their shells, strengthened already apparent qualities in some, and for the others improved their social life tenfold by working in teams with like-minded peers."
Learn more about running esports as a DofE Skills activity.