Gold paddle boarding in Wales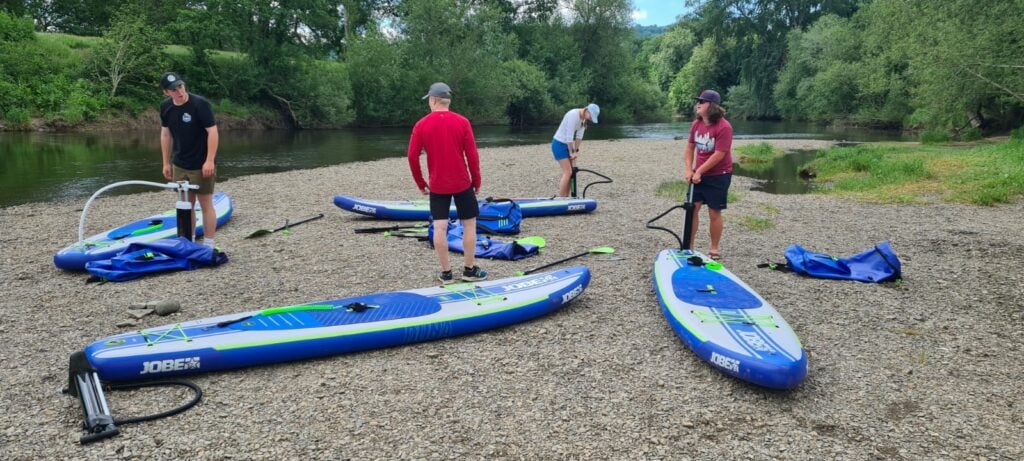 DofE Manager at Blaenau Gwent – Open centre under Blaenau Gwent County Borough Council in Wales
1. Number of

Participants

/ Groups / Award level:
There were four participants in this Gold group and they were all aged 18 and over. Cath Parker (DofE Manager) knew the group really well and had worked with them since they started their Bronze nearly five years ago. Cath was determined that the Gold Award should be made special and particularly memorable for the young people – it should be something different.
2. What was the expedition aim?
The aim of the Expedition was to really experience it the way adults would – for it to be as independent as possible and for the young people to be self-sufficient and organise the whole trip themselves. This proved to be the best approach for this team, and later in the year they re-organised another expedition very similar to their Gold, for pure enjoyment and another opportunity to work together as a group and explore the environment.
3. What did the expedition look like?
The group decided to do paddleboarding for the expedition and used the paddleboards and equipment owned by the youth service. They were independent in every aspect of the expedition, booking the campsite and planning the routes. Their longest day was 36km and they used a firepit to cook some of their food. Every morning they cooked breakfast together and naturally gave each other different roles within the group, so everyone knew their job and felt they were making a positive impact on the expedition.
4. What did you need to consider to organise and lead this expedition?
The youth service paid for the instructor and funded all of the paddleboard training – they also provided all of the kit. The DofE Manager was their Assessor, using the option of an Assessor being known to the group so this was no longer an issue. This meant overall it was a very low cost expedition and made it accessible to all members of the team.
5. As a Leader, what did you notice about the outcomes for participants doing this expedition?
The DofE Manager noticed a lot more enthusiasm and self-belief in the young people as they demonstrated what they could do independently when they put their minds to it. They developed skills in paddleboarding and have now planned their own trip to take part in another paddleboarding expedition to further develop and explore new areas. The young people gained much more confidence in themselves, a better understanding of the outdoors and came back 'full of energy and enthusiasm', as well as being motivated to do more activities similar to this.
"The group enjoyed the freedom of having more of a say in how their expedition ran, they felt treated more like adults and used the opportunity to experience an expedition they would like to complete again away from DofE."
– DofE Manager at Blaenau Gwent