Today, we're releasing our first post-pandemic annual statistics – and they show a surge in young people starting their DofE. More than 321,000 began a programme in 2021/22 – the highest in our 66-year history – and nearly half a million are now doing their DofE across the UK, in schools. colleges, prisons, sports and youth clubs, and beyond.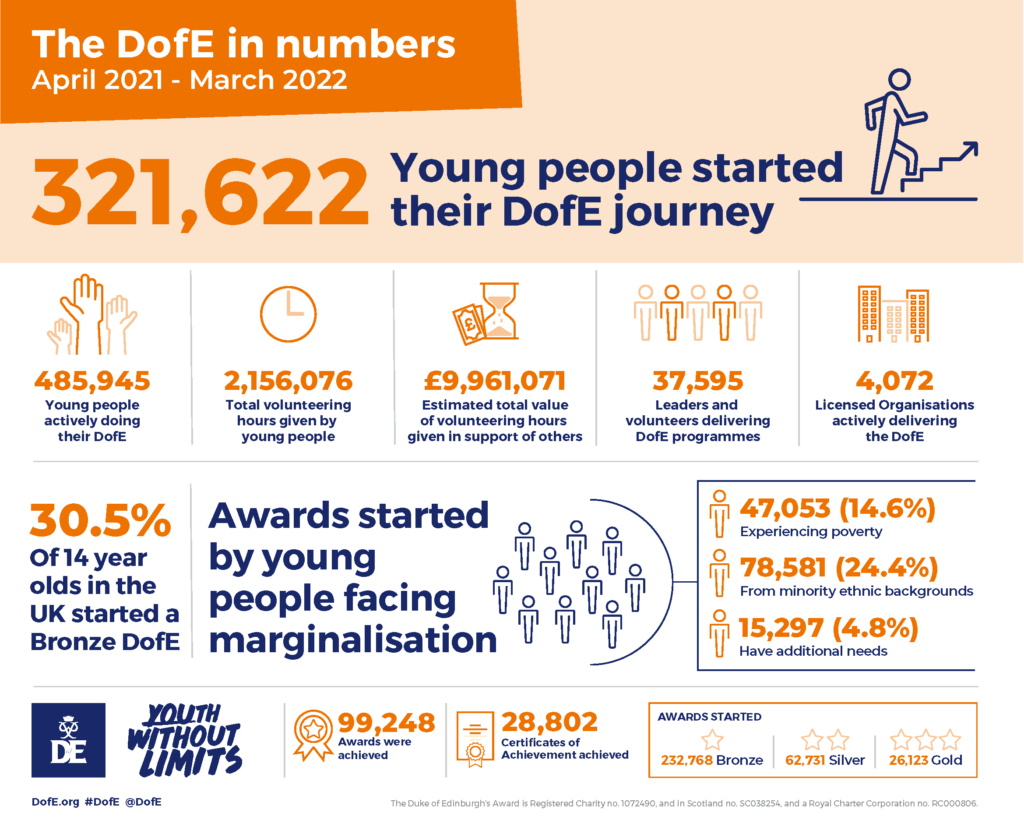 Gold Award holder and Youth Ambassador, Kayleigh, has cerebral palsy and lives with autism. She tells us how DofE has impacted her and the valuable lessons she has learnt along the way.
"It seems surreal but I can officially call myself a DofE Gold Award holder.  All my hard work, determination and perseverance has certainly been worth it!
Completing our Gold expedition in summer 2021 was the first time the group of us had got together in person since before lockdown. Sharing banter, bouncing off one another and getting each other through the highs and lows.  We explored the Loch Leven area in Kinross-shire for our practice expedition and took in some breathtaking views around the Crieff area in Perthshire for our qualifier.
The pandemic presented me with some challenges. My Volunteering section was undertaking admin tasks for a local charity which was rewarding and gave me a satisfying sense of achievement at a difficult time. My Skills section kept me in a routine throughout lockdown, which was vital and made me feel less anxious.
What have I learned throughout this journey is that you can achieve anything if you are willing to put in hard work. The sense of happiness I felt when I finished was beyond anything I had experienced before.  I've also learned to pace myself and allow my body to rest, which is something I always found hard. Doing Gold has shown me that I need to listen to my body to avoid burnout.
Although my Gold Award is now complete, this is just the beginning of some exciting times ahead and who knows what opportunities are waiting for me.."
Lucy is also a Gold Award holder and DofE Youth Ambassador. She shares how her DofE Award has shaped who she is today.
"Despite doing a PhD in creative writing, I never could have imagined the ways my life would have changed over the last six years since I completed my Gold DofE expedition. Especially as those days up the mountain feel like last week. In six years I have become a capable adult ready to accept new challenges and face them with a smile. I've been able to develop my confidence in putting myself forward for opportunities and seeing them through to the end, a trait that has been hugely beneficial in shaping myself as an academic and writer.
If I hadn't said yes all those years ago, I don't know where I'd be now but I know I wouldn't be as mentally strong, successful or happy. The skills I have been equipped with, alongside character development and excellent relations with other DofE Ambassadors have been invaluable."
Press Release
UK figures April 2021 – May 2022
Young people actively doing DofE – 485,945
Adults supporting them – 37,595
Licenced Organisations actively delivering DofE –4,072
Total number of volunteering hours – 2,156,076
Volunteering hours financial equivalent – £9,961,071
Total Awards started
321,622
Bronze – 232,768
Silver – 62,731
Gold – 26,123
Total Awards started by marginalised young people
140,931

IMD 1-3 – 47,053
SEND/additional needs – 15,297
Ethnic minorities – 78,581
Total Full Awards achieved
99,248
Bronze – 73,719
Silver – 20,081
Gold – 5,448
Total Certificates of Achievements achieved
28,802
Bronze – 20,110
Silver – 5,903
Gold – 2,789
Read how DofE has impacted young people