Katherine realised she could do anything she put her mind to
Katherine has gone from achieving her Gold Duke of Edinburgh's Award to winning Gold for Team GB and she is certain there is a connection. As she puts it, "The most important lesson I learned while doing my DofE was to believe in myself. It taught me that when things get tough, you have to push through – when you get to the other side, there's a huge feeling of pride."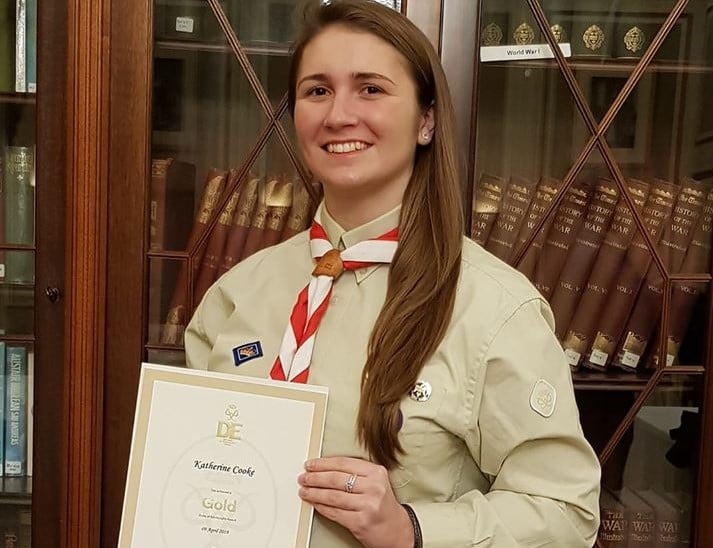 Having always loved being outdoors and taking part in sport and music, Katherine felt an immediate connection with the DofE. With the support of her family, her local Scout Association and her marching band leader, she achieved her Bronze and Silver Awards whilst at school and university.
She decided to start her Gold DofE in her final year of university and complete sections at a slower pace than previous levels whilst she was busy with her studies and then starting a new job. She sees this as a positive as it meant she could experience every element of the DofE fully and carefully consider what she wanted to do for each section.
"Doing the DofE inspired me to give back to others. It helped me realise that I love being active in my community so I took on more responsibilities within my different activities, such as volunteering as a Scout leader. For my residential, I helped out at a respite holiday centre for people with disabilities. It's one of my most memorable experiences – everyone at the centre was amazing and the guests were lovely."
Katherine believes that doing the DofE helped her get into university and set out on the right career path. It also gave her the drive to push herself in other areas of her life. Over the last few years, she has achieved a First Class Honours degree, become a sports coach and PE teacher, been promoted to Colour Sergeant in her marching band and won Gold and Silver medals in Ju-Jitsu for Team GB at the World Championships.
"The DofE doesn't just teach you the skills to achieve an Award, it helps you to develop as a young person and transfer these skills to your everyday life. I feel like I've learned a lot, especially in terms of working in a team and being resilient. Doing my DofE helped me to stay fit and gave me the confidence to take on new challenges and keep going when things get tough. I've realised I can do anything I put my mind to."
For Katherine, helping other young people to have the same great experiences she has had is now a priority. She coaches Ju-Jitsu and, when work allows, she still volunteers at her local Scout group. Her message to anyone doing their DofE is: "Enjoy every moment and make as many memories as you can. Achieving a DofE Award is a massive achievement, so be proud of what you're doing and use it to help push you forward every day."
Take a look at DofE With A Difference for ideas and advice on how you can keep doing your DofE during the coronavirus outbreak.
And don't forget – if you've completed your Physical, Skills and Volunteering sections but can't do your expedition right now, we've introduced The 2020 DofE Certificate of Achievement to formally recognise your achievements at this extraordinary time.