The good news-round – 1 June
We've gathered this week's heart–warming stories to share with you, from those working towards achieving their DofE Awards to stories from around the world. 
1. A Gold Award holder celebrated in style 
Scarlett, from Buckinghamshire, was due to attend her Gold Award Presentation but she didn't let the cancellation get her down. Instead, she celebrated by baking a cake (complete with DofE logo!) and had her own presentation at home in the garden. 
2. DofE Ambassador got crafty for key workers 
Rianne is using her time in lockdown to teach us all how to make DofE roses to give to our amazing key workers. DofE colleagues across all Regions and Countries, and particularly South East, have been busy putting their arts and crafts to the test for a good cause!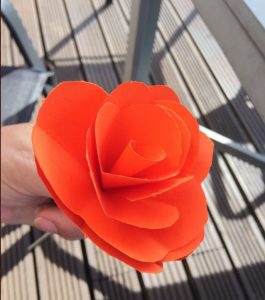 3. A Bronze participant has been making care home residents smile 
Jemima has been volunteering at her local care home by playing the piano for local residents. With restrictions currently in place, she can't visit in person but hasn't let this get in the way of cheering them up. She recently recorded herself playing 'Happiness' by Ken Dodd, which is resident Bernard's favourite song.  
4. An Indian police officer's TikTok video helped reunite a family with their missing dad 
A missing father who had been away from home for more than two years was spotted in the background of a TikTok video encouraging people to donate to the poor. R Venkateshwarlu, who has hearing and speech difficulties, boarded a truck to go to work in 2018 but fell asleep and woke up in an unfamiliar area, and in his attempts to get back home, he unintentionally ended up 1,242 miles away across the country. After being spotted in the officer's video by a friend, he was reunited with his family and returned home to Telangana. 
5. Costa Rica became the first country in Central America to legalise same-sex marriage 
A ban on same-sex marriage in Costa Rica was lifted this week in a historic moment in Central America. Dunia Araya and Alexandra Quirós celebrated the decision by being the first same-sex couple to legally marry live on television. 
6. A German IKEA store gave up its carpark to 800 Muslims to help them celebrate Eid 
The carpark of IKEA in Wetzlar, Germany, dedicated its car park to hundreds of local Muslims to help them celebrate a socially-distanced Eid, at the end of the holy month of Ramadan. The good deed allowed around 800 Muslims to hold their closing prayers while spaced out due to social distancing rules.