Welcome to DofE Direct
Your Gold DofE journey starts here. Your DofE Direct Leaders are
Nina, Kelly and Jez
who are on hand to help you with anything about your Award in office hours Mon-Fri between 9.00 - 16.30.
T: 01753 727 474/444/404
M: 07342 068 791 - call or text
E:
[email protected]
What's new?
2 July 2020
We're pleased to announce an Expedition Opportunity – Training & Practice 17th- 20th July & Qualifying 7th- 10th August 2020
For more details contact Georgia at Wilderness Expertise – [email protected]
Closing date 7th July
28 April 2020
Read what our DofE Direct participants, Phoebe and Jessica are doing for their skills and volunteering during the lockdown. You might find some inspiration!
19 March 2020
We have emailed you all individually regarding the Coronavirus outbreak. Please check your emails and spam folder and do not hesitate to get in touch with us via [email protected] should you have any concerns.
Take care, Nina, Kelly and Jez.
5 March 2020
Congratulations to everyone that has recently completed their Gold Award! Don't forget to accept your invitation to a Gold Award Presentation, where you will receive your official Gold Certificate.
10 January 2020
Happy new year to you all!
Sense have just opened their applications for new volunteers, it fulfils the gold residential and is FREE! Visit our 'find an opportunity' page for more information.
19 December 2019
The Dofe Direct Team would like to wish all our participants a Merry Christmas and Happy New Year. Please note the office will be closed from 24th December to 2nd January 2020. Speak to you all in the New Year!
19 November 2019
The Open University have a free distance learning money management course. Visit our 'find an opportunity' page for more information.
23 October 2019
YHA have some free residentials running this winter for over 18s, visit our 'find an opportunity' page for more information.
2 October 2019
We're pleased to announce The Scouts are offering free residentials, visit our 'find an opportunity' page for more information.
28 September 2019
We had a great time at the Bristol and Bath Spa Freshers' Fayre. Hopefully we'll have even more university students completing with us.
5 August 2019
It's expedition season, please get in touch if you want more information about joining an open group.
3 June 2019
Did you know? If you're a parent and looking for a residential, then the YHA can potentially accommodate your children. Get in touch with them directly for more info.
22 May 2019
Congratulations to our DofE Direct Gold Award holders! Here they all are at Buckingham Palace.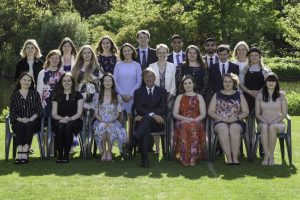 21 May 2019
More Skill ideas; check out U:Bee online courses from money management to understanding bees.
16 May 2019
Fancy doing First Aid for your Skills section? St John Ambulance have launched a helpful toolkit.
15 May 2019
It was great to see all our DofE Direct Award holders at Buckingham Palace this Monday. Check out our Twitter page @DofEOps for photos. You should all feel really proud!
03 May 2019
Another remote way to do your Volunteering via The Mix.